UFOs in the daily Press:
The 1954 French flap in the Press:
The article below was published in the daily newspaper Force Ouvrière, France, page 2, on September 16, 1954.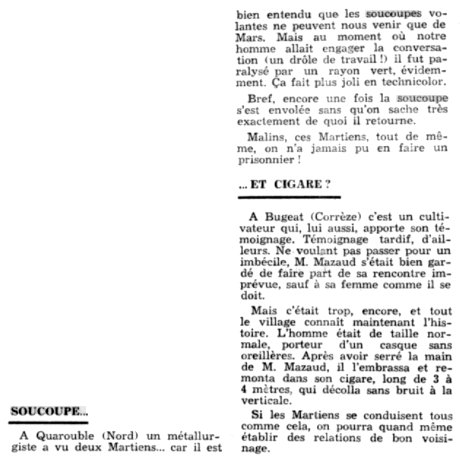 SAUCER...
In Quarouble (Nord) a metallurgist saw two Martians... Because it is understood that the flying saucers can only come from March. But just as our man was about to start a conversation (a funny job!) he was paralyzed by a ray, green obviously. It looks nicer in technicolor.
In short, once again the saucer flew away without us knowing exactly what it is.
Clever, these Martians, all the same, we were never to capture oine of them!
... AND CIGAR?
In Bugeat (Corrèze) it is a farmer who, too, brings his testimony. Late testimony actually. Not wanting to pass for an imbecile, Mr. Mazaud had taken care not to announce his unexpected encounter, except to his wife as it should be.
But it was too much, od course, and the whole village now knows the story. The man was of normal height, wearing a helmet without ear blinders. Shaking hands with Mr. Mazaud, he kissed him and climbed back into his cigar, 3 to 4 meters long; which took off silently vertically.
If the Martians all behave like this, we can surely establish good neighborly relations.