UFOs in the daily Press:
French saucers 1954:
The article below was published in the daily newspaper L'Est Républicain, France, on October 23, 1954.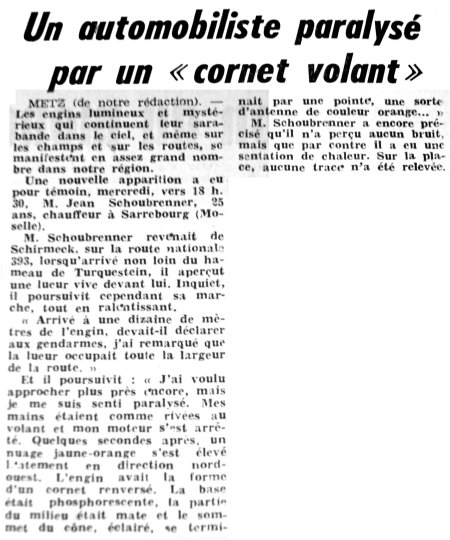 A motorist paralysed by a "flying cone"
METZ (From our newsroom). -- The luminous and mysterious machines which continue their saraband in the sky, and even on the fields and the roads, appear in rather great number in our area.
A new appearance, Wednesday, towards 06:30 p.m., had as a witness Mr. Jean Schoubrenner, 25 years old, driver in Sarrebourg (the Moselle).
Mr. Schoubrenner returned from Schirmeck, on the road RN 393, when arrived not far from the hamlet of Turquestein, he saw a strong gleam in front of him. Anxious, he nevertheless continued his driving, while slowing down.
"Arrived at about ten meters of the machine, he stated to the gendarmes, I noticed that the gleam occupied all the width of the road."
And he continued: "I wanted to approach even more, but I felt paralyzed. My hands were like glued at the wheel and my engine stopped. A few seconds after, a yellow-orange cloud rose slowly in the north-western direction. The machine had the shape of a reversed cone. The base was phosphorescent, the part in the middle was matt and the top of the cone, lit, ended in a point, a kind of antenna of orange color..."
Mr. Schoubrenner also specified that he did not perceive any noise, but that on the other hand he had a feeling of heat. On site, no trace was found.