UFOs in the daily Press:
Mysterious meteors in Lorraine, France, 1946:
The article below was published in the daily newspaper L'Est Républicain, France, on September 14, 1946.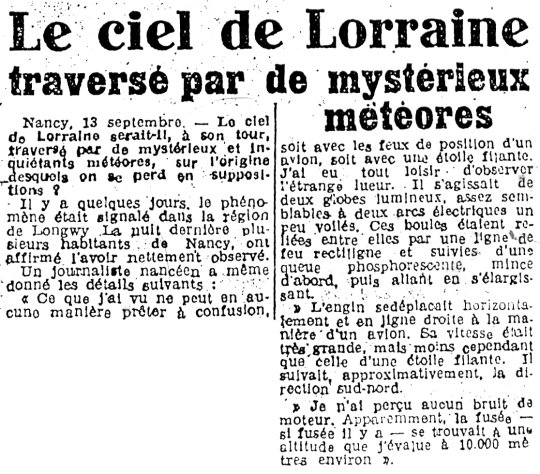 The sky of Lorraine crossed by mysterious meteors
Nancy, September 13. -- Is the sky of Lorraine, in turn, crossed by mysterious and disturbing meteors, on the origin of which we are lost in suppositions?
A few days ago, the phenomenon was reported in the Longwy region. Last night several residents of Nancy claimed to have clearly observed it.
A journalist from Nancy even gave the following details:
"What I saw can in no way be confused with either the position lights of an airplane or a shooting star. I had plenty of time to observe the strange glow. They were two luminous globes, somewhat similar to two slightly veiled electric arcs. These balls were linked together by a straight line of fire and followed by a tail, phosphorescent, thin at first, then widening.
"The craft moved horizontally and in a straight line like an airplane. Its speed was very high, but less than that of a shooting star. It followed, approximately, the south-north direction.
"I did not hear any engine noise. Apparently, the rocket - if rocket it was - was at an altitude that I estimate at around 10,000 meters."