UFOs in the daily Press:
UFO in the sky of Saverne, France, 1979:
The article below was published in the daily newspaper Les Dernières Nouvelles d'Alsace, France, January 7, 1979.
See the case file.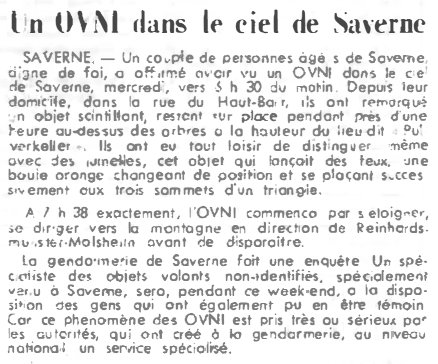 A UFO in the sky of Saverne
An elderly couple of Saverne, trustworthy, said they saw a UFO in the sky of Saverne Wednesday around 6:30 in the morning. From home, in the rue du Haut Barr, they noticed a glittering object, remaining in place for nearly an hour above the trees at the height of the "Pulverkeller" location. They had every opportunity to distinguish, even with the binocular, the object that threw lights, an orange ball changing position and successively placing itself at the three points of a triangle.
At exactly 7:38 a.m., the UFO began to move away, moving down the mountain towards Reinhardsmunster-Molsheim before disappearing.
The gendarmes of Saverne conducted an investigation. A specialist in unidentified flying objects who specially came to Saverne, will, during this weekend, make himself available to people who would also have witnessed this phenomenon. For this UFO phenomenon is taken very seriously by the authorities, who created at the gendarmerie, at national level, a specialized service.