UFOs in the daily Press:
UFO in Marsannay-la-Côte, France, 1999:
The article below was published in the daily newspaper Le Bien Public, France, le 5 juillet 1999.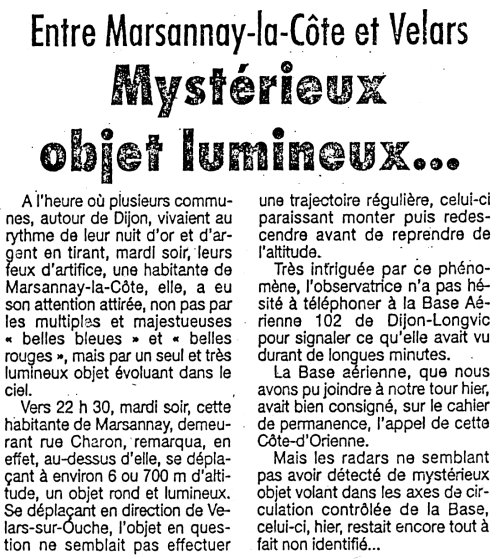 Between Marsannay-la-Côte and Velars
Mysterious luminous object...
At a time when several towns around Dijon were living to the rhythm of the golden and silver night by setting off their fireworks on Tuesday evening, a resident of Marsannay-la-Côte, had her attention drawn, not by the multiple and majestic "beautiful blues" and "beautiful reds", but by a single and very luminous object moving in the sky.
Around 10:30 p.m. on Tuesday evening, this resident of Marsannay, living in rue Charon, noticed, in fact, above her, moving at an altitude of about 6 or 700 m, a round and luminous object. Moving in the direction of Velars-sur-Ouche, the object in question did not seem to follow a regular trajectory, it seemed to rise and then descend before regaining altitude.
Very intrigued by these phenomena, the observer did not hesitate to call Air Base 102 in Dijon-Longvic to report what she had seen for many minutes.
The Air Base, which we were able to reach in our turn yesterday, had recorded, in the duty notebook, the call of this Côte-d'Or resident.
But the radars do not seem to have detected any mysterious flying objects in the controlled circulation axis of the base, this one, yesterday, still remained completely unidentified...