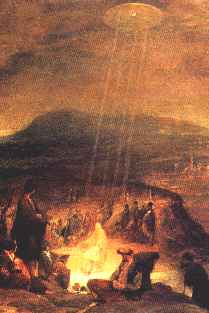 1710:
Painting from Flemish artist Aert de Gelder (1645-1727), Rembrandt disciple, supposed to show the baptism of Jesus in river Jordan, entitled "The Baptism of Christ". It was painted in 1710 and hangs in the Fitzwilliam Museum, Cambridge. A disk shaped object is shining beams of light down on John the Baptist and Jesus.
Oil on canvas, 48.3 x 37.1 cm. Given by Lord Alwym Compton, Bishop of Ely, 1905. Prov: Marianne, Countess of Alford, 1888.
Diego Cuoghi managed to see the painting in detail, and the very small thing at the center of the disc is a dove, confirminf the symbolic nature of what is thus not a UFO or flying disc.