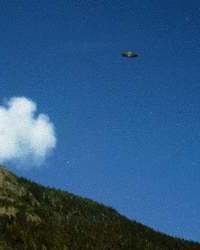 VANCOUVER ISLAND 1981
UFO photographed by Hannah McRoberts in October 1981 North of Kelsey Bay in Vancouver Island, British Columbia. She was photographing the mountain and neither she nor her companion saw the UFO at the time. This frame shows a section of the original picture, concentrating on the UFO.
Here is an enlargement of the UFO as well as the full uncropped picture and more information on this famous picture.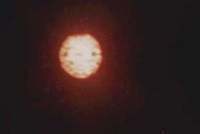 PIGEON LAKE 1967:
In the evening of July 3, 1967, Mr. Douglas Dennis, fishing at Pigeon Lake, near Buckhorn, Alberta, was amazed by the appearance of a soft, orange colored ball of light in the sky above him. It descended quite low, and Mr. Dennis took his camera and snapped a color picture of the brightly luminous mass hovering in the air. This remarkable night photograph clearly shows a round luminous object directly overhead. Others present observed the object and Mr Dennis photographing it.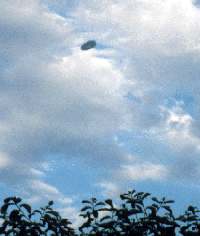 BRITISH COLUMBIA 1997:
This picture seems to come from near Prince George, British Columbia, and the date seems to be June 24, 1997, time indicated as close to 01:30 P.M.