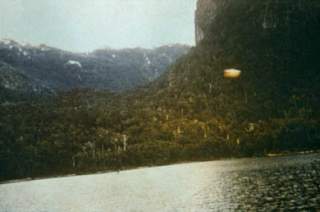 BARILOCHE, 1969:
Professor Sebastian JosÚ Tarde, MD, a prominent physician and later director of the Mendoza Central Hospital, spent the year's end with his students in Bariloche, a popular holiday ressort in the Argentinien Andes. When the group shipped on the Nahuel Huapi-Lake, on December 30, 1969, the Professor shot some photos with his Leica camera. The yellow-orange shape appeared on two of them. He did not see the objects when he took the pictures. According to Michael Heseman, two photographic experts from Mendoza analysed the original slide and concluded that the object cannot be a lens flare nor a mistake in the film.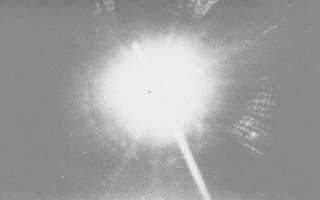 BUENOS AIRES 1963:
At 6:30pm on February 7, 1963, Sr. Felix Carrizo and his wife were driving their NSU Prinz automobile westward on Route #5 from Buenos Aires toward La Pampa. They had been driving steadily for some time and pulled off the road for a short rest stop near Alberti Heights. It was then that Senora Carrizo noticed a strange aerial vehicle drifting their way. It was a stupendous craft, floating at a steeply inclined angle to the horizon. It was inclined at about 80 degrees above the horizon, sloping only ten degrees from zenith, and was drifting in the air about one hundred meters above the trees. Carrizo estimated the slender cigar-shaped object to be about 200 meters long and 20 meters in diameter. As it got closer he could see that it had a silvery-gray color, and was cylindrical in shape, with a row of six rectangular "windows" along the side which were brightly lighted from inside. The second and third "windows" from the upper end glowed brighter than the others. The light from these panels was so intense that it hurt the eyes to look directly at them. Remembering that his camera, an Alpha-Alnea, was in the trunk of the car, Felix ran to get it, readied it and took one photograph of the machine.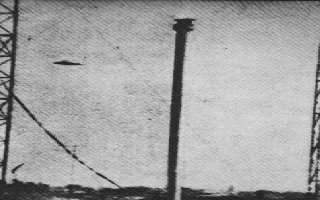 PARANA 1970:
At 03:00 P.M. on September 6, 1970, Sergio E. Schlimovich was preparing to photograph the Parana River from the terrace of his home when he saw a strange shiny flying object approaching. He quickly shot two color photographs of the bright, disc-shaped craft as it flew at low altitude.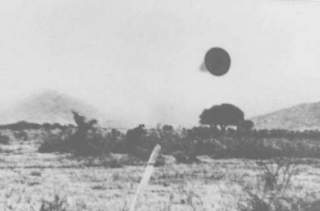 CORDOBA 1960:
A cone-shaped object flying slowly along the horizon was seen July 3, 1960 at 04:30 P.M., by Captain Hugo Luis Niotti. The object seemed opaque, and moved in a clockwise whirlwind. The flying object disappeared climbing away to the south. The photos showed no signs of tampering or fakery. The object appeared completely smooth with no projections.