The 1954 French flap:
The index page for the 1954 French flap section of this website is here.
October 23, 1954, Chalandray, Vienne:
Reference for this case: 23-Oct-54-Chalandray.
Please cite this reference in any correspondence with me regarding this case.
Summary:
In a 1966 list by ufologist Jacques Vallée, it is noted that there was an observation on October 23, 1954, in Chalandray. There was no other information about it in this list.
A US website notes in the 2000s that there was one witness, and that the hour of observation was midnight.
In 2021, I finally found a source of the times: the national newspaper La Croix for October 26, 1954, which reported on page 2 a story of dazzling by a "saucer":
An unnamed quicailler from Thénezay in the Deux-Sèvres department was accompanied by one Mr. Dribault, and was driving "last night" - therefore on October 25, 24 or 23, 1954 - near Chalandray in the Vienne department, when "suddenly the two men saw a bright glow of different colors, emitted, they thought, by a flying saucer."
Dazzled, the driver reportedly lost control of his truck, which crashed into a tree bordering the road. The two occupants were slightly injured, while the truck suffered extensive damage.
Reports:
[Ref. lcx1:] NEWSPAPER "LA CROIX":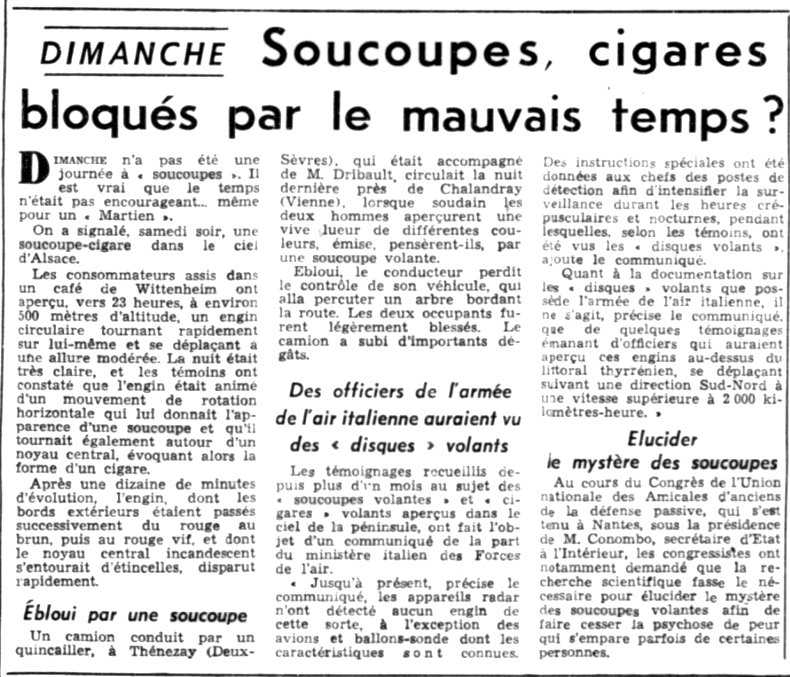 SUNDAY
Saucers, cigars
blocked by bad weather?
SUNDAY was not a "saucer" day. It is true that the weather was not encouraging... Even for a "Martian".
One reported, Saturday evening, a saucer-cigar in the sky of Alsace.
Consumers seated in a café in Wittenheim saw, around 11 p.m., at an altitude of about 500 meters, a circular craft spinning rapidly and moving at a moderate pace. The night was very clear, and witnesses noted that the craft was animated by a horizontal rotational movement which gave it the appearance of a saucer and it also rotated around a central core, thus evoking the shape of a cigar.
After about ten minutes of maneuvers, the craft, whose outer edges had passed successively from red to brown, then to bright red, and whose incandescent central core was surrounded by sparks, quickly disappeared.
Dazzled by a saucer
A truck driven by a hardware store man, in Thénezay (Deux-Sèvres), who was accompanied by Mr. Dribault, was driving last night near Chalandray (Vienne), when suddenly the two men saw a bright light of different colors, emitted, they thought, by a flying saucer.
Dazzled, the driver lost control of his vehicle, which crashed into a tree bordering the road. The two occupants were slightly injured. The truck suffered extensive damage.
Italian air army officers
reportdely saw
"flying disks"
The testimonies collected for more than a month about the "flying saucers" and flying "cigars" seen in the sky of the peninsula, were the topic of a press release from the Italian Ministry of the air Forces.
So far, the press release said, radar devices have not detected any such craft, with the exception of airplanes and weather balloons whose characteristics are known.
Special instructions were given to the heads of the detection stations to intensify surveillance during the twilight and night hours, during which, according to witnesses, the "flying discs" are seen, the statement added.
As for the documentation on the flying "discs" owned by the Italian Air Force, it is only a few testimonies from officers who have seen these craft above the Tyrrhenian coastline, moving in a south-north direction at a speed greater than 2000 kilometer per hour."
Elucidate
the mystery of the saucers
During the Congress of the National Union of Friends of the ancients of the Passive Defense, which was held in Nantes, under the chairmanship of Mr. Conombo, Secretary of State for the Interior, the delegates in particular asked that scientific research do what is necessary to elucidate the mystery of the flying saucers in order to put an end to the psychosis of fear which sometimes takes hold of some people.
[Ref. jve5:] JACQUES VALLEE:
| | | | | | | | | | | | | | |
| --- | --- | --- | --- | --- | --- | --- | --- | --- | --- | --- | --- | --- | --- |
| 289 | 000.00278 | 46.66050 | 23 | 10 | 1954 | | | | CHALAMBRAY-VIENNE | F | 0011 | A | |
[Ref. uda1:] SITE WEB "UFODNA":
The website indicates that on 23 October 1954 at 24:00 in Chalandray, France, "One object was observed by one witness."
The sources are indicated as Vallee, Jacques, Computerized Catalog (N = 3073); Vallee, Jacques, Challenge to Science: The UFO Enigma, Henry Regnery, Chicago, 1966; Vallee, Jacques, Preliminary Catalog (N = 500), (in JVallee01).
[Ref. ubk1:] "UFO-DATENBANK":
This database recorded this case twice:
| Case Nr. | New case Nr. | Investigator | Date of observation | Zip | Place of observation | Country of observation | Hour of observation | Classification | Comments | Identification |
| --- | --- | --- | --- | --- | --- | --- | --- | --- | --- | --- |
| 19541023 | | | 23.10.1954 | | Chalandray | France | 24.00 | | | |
| 19541023 | | | 23.10.1954 | | Chalandray | France | | | | |
Explanations:
The information is very insufficient, and as it stands, it is not at all obvious that it was a "saucer" that dazzled the driver.
Keywords:
(These keywords are only to help queries and are not implying anything.)
Chalandray, Vienne, night, Thénezay, harware store man, Dribault, truck, gleam, colors, saucer, dazzled, driver, accident, hurt, damages
Sources:
[----] indicates sources that are not yet available to me.
[lcx1] Article in the national newspaper La Croix, Paris, France, page 2, October 26, 1954.
[jve5] "Catalogue préliminaire de 500 observations", listing in "Les Phénomènes Insolites de l'Espace", book by Jacques and Janine Vallée, Table Ronde publishers, France, 1966.
[jve5] "Challenge to Science: The UFO Enigma", book by Jacques and Janine Vallée, Henry Regnery publisher, USA, page 58, 1966.
[jve5] "Catalogue préliminaire de 500 observations", listing in "Les Phénomènes Insolites de l'Espace", book by Jacques and Janine Vallée, Robert Laffont publisher, France, page 253, 1978.
[uda1] "23 Oct 1954 - Chalandray, France", web page by the UFOdna website, circa 2008, at www.ufodna.com/uf02/uf3/023411.htm
[ubk1] Online database UFO-Datenbank, Germany, found in 2016, at ufodatenbank.de
Document history:
| Version: | Created/Changed by: | Date: | Change Description: |
| --- | --- | --- | --- |
| 1.0 | Patrick Gross | March 18, 2010 | First published. |
| 1.1 | Patrick Gross | July 3, 2010 | Addition [jve5]. |
| 1.2 | Patrick Gross | March 6, 2017 | Addition [ubk1]. |
| 1.3 | Patrick Gross | October 23, 2019 | Addition of the Summary. Explanations changed, were "Not looked for yet." |
| 1.4 | Patrick Gross | January 4, 2021. | Addition [lcx1]. In the Summary, addition of "In 2021, I finally found..." and what follows. Explanations changed, were "Totally insufficient information." |