News and observation reports, November 2008:
| | |
| --- | --- |
| 11.27.2008 | Phoenix probe on Mars: mission accomplished. |
| 11.25.2008 | Simple nocturnal light called UFO in La Réunion. |
| 11.24.2008 | Carbon dioxide detected on exoplanet 63 light years away. |
| 11.22.2008 | Short-lived bursts of methane percolating to the surface detected. |
| 11.22.2008 | Mars: vast buried glaciers detected. |
| 11.21.2008 | Daylight object seen and photographed over Filton, U-K. |
| 11.18.2008 | Sightings on the rise in Bucks County, Pennsylvania, USA. |
| 11.16.2008 | Nocturnal lights or Patrouille de France aerobatic team. |
| 11.16.2008 | First direct infrared image of three giant planets around same star. |
| 11.14.2008 | The Pope, again. |
| 11.13.2008 | UFOs or balloons, Mexico City airport. |
The newspaper of La Reunion "Clicanoo" reports on December 6, 2008 that on November 25, 2008 towards 8 p.m., a man, his wife and their three children, at a small villa on the side of Bois-de-Nèfles Saint-Paul saw "a ball of fire, above the harbour." The father initially thought of a meteorite [a meteor] but "it did not move, and did not burn out. The gleam slowly descended, without noise, then stopped suddenly during five minutes. Then, it started to go up, before disappearing suddenly. That lasted a good five minutes, it was perfectly visible to the naked eye."
The father took a photograph, enlarged it on his computer and "realizedt that the haloed gleam reveals 'an oval shape'. He reportedly then spent hours to document himself about UFOs on the web, and sent a report to NASA [who does not study UFO reports] and the GEIPAN in France.
From the sescription, the UFO could be any plane or helicopter, or a thai lantern, on sale on the island, used there by the community of Eastasian origin, but apparently as the gendarmes said that it must have been "fireworks", the witness is "unconvinced" and the newspaper thinks that "the mystery remains."
Taxi driver Paul Matthews, 45, from Patchway, spotted an object in the air over Filton near the Royal Mail depot at about 02:00 p.m. on Friday November 21, 2008, after he had driven into the Airbus site. He quickly pulled over his car, watched what he described as a disc-shaped object hovering in the air before disappearing "as swiftly as it had appeared", and he took a photograph of the object: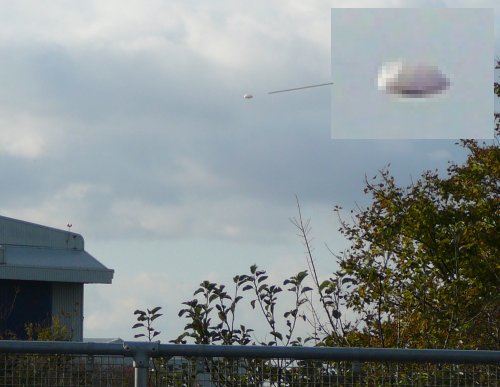 He explained he first he thought it was an aeroplane, microlite or parachute, but it was not behaving like anything he had seen before: "It was very weird. It was so strange. I have been a lorry driver in my time and seen some strange things, but this is something else." "I had never ever seen something like this before. I was really surprised how other people had not noticed it. I thought they would be stopping in their droves, but that was not the case at all."
Denis Plunkett, 77, former RAF pilot, head of the British Flying Saucer Bureau, the ufology group that became famous when medias worldwide falsely claimed it was closed, commented that it was just the latest in several sightings "of alien spaceships" in the area.
SIGHTINGS ON THE RISE IN BUCKS COUNTY, PENNSYLVANIA, USA:
ABC reports that in Bucks County, Pennsylvania, there were dozens of reports of UFO sightings over the past few months.
This burst in unexplained sightings prompted the Pennsylvania Mutual UFO Network to hold its next Alien Hunter Conference at Bucks County Community College. MUFON's Pennsylvania Branch Director John Ventre told ABC that "over the Summer of 2008, we had 138 UFO sightings from Pittsburgh to Philly. Normally we would have 36 over a four month."
See abclocal.go.com/wpvi/story?section=news/local&id=6513117
THE POPE, AGAIN:
The obsession about the "Pope confirms alien UFOs" started again on lunatics ufology forums, this time prompted by a TV report uploaded at:
http://www.youtube.com/watch?v=wSFqNo0PhJU
Whereas there is actually simply the fact that the Vatican observatory chief astronomer shares his personal opinion that there is probably life on other planets, this is regularly distorted by sensationalist reporters or nonsense ufologists to become "the pope confirms that aliens visit Earth". Not only the pope does not have any expertise on the matter, he never said that.
UFOs OR BALLOONS, MEXICO CITY AIRPORT:
Ana Luisa Cid told Inexplicata that on November 13 2008, some airport workers reported seeing UFOs over Mexico City International Airport. "According to observations made by Alfonso Salazar, [the sighting] involved 30 spherical objects that remained visible for 3 hours around 10:45 in the morning."
"A larger object stood out among them, which appeared to travel in a zig-zag motion at considerable speed".
"The eyewitnesses include some 35 painters who were working at the Aeromar hangar."
Source: inexplicata.blogspot.com