The 1954 French flap:
The index page for the 1954 French flap section of this site is here.
January 9, Lunéville, Meurthe-et-Moselle:
Reference number for this case: 9-Jan-54-Lunéville. Thank you for including this reference number in any correspondence with me regarding this case.
Reports:
[Ref. er1:] "L'EST REPUBLICAIN" NEWSPAPER:
Seen at dawn this last Saturday the "moon" is without a doubt a flying saucer just like the Franche-Comté cigar
It was obvious that there was growing concern throughout the eastern region. Anxious and a little annoyed too, it must be confessed. We have always had at our heart to place ourselves at the forefront of progress and, for nothing in the world, we would not want to be laggards. Tranquillise yourselves, we are now up to date, like most regions of France, Navarre and elsewhere.
We, too, have our flying saucers.
True!
Good things come to those who wait for.
Like the moon
A saucer was seen Saturday morning, at 7:55 a.m., in the sky of Nancy
Young girls who went to their college are formal. The yellow disk spun into a low sky, gorged with snow, dragging behind it a luminous beam. It had the exact appearance of the moon, but had a circumference reduced to about a quarter of that of the pale star, in which we shall spend our holidays one of the next few days.
An official from Nancy, too, saw the mysterious craft at the same moment, and gave a description in all respects conformable to that furnished by the girls.
In Lunéville, a few moments earlier, the students of the college clearly saw the machine and its reddish trail, and several people of the city, absolutely trustworthy, also witnessed, amazed at this unusual spectacle. At the same hour the phenomenon was observed above the station of Metz, by a surveyor of Courcelles-Sur-Nied.
The flying saucer scoured the weekend's conversations. But Lorraine was not the only region to enjoy the privilege. Franche-Comte also had its saucer.
All colors of the rainbow
It was also on Saturday, at 7:50 a.m., that a gentleman, whose words can not be doubted, residing in Montrond-le-Château, in the Doubs, which left the parish church, with two ladies and a child, and saw the saucer. It came from the northwest and was heading south-east.
"It was," said the witness, "a luminous craft that has the elongated form of a rocket and run very fast, shining brightly and having a comet-like star-tail on which were all the colors of the rainbow. This is by no means a hallucination. We were four and we saw the machine for several seconds..."
An elongated red cigar...
At the same hour, the saucer-rocket was seen in Besançon. It was, in fact, 7:50 a.m. when Mr. Nicod, a city supervisor, who was conversing with Mr. Marcel and Mr. Brocard, an employee at the Bouchu house, suddenly said to them: "Look quickly... It looks like a flying saucer!" The two men watched the sky and, in the morning clouds, saw "like a red cigar lying backwards, 2m50 in length (visual) and spinning horizontally at a dizzying speed, from the northeast to the southeast..."
This meteor (?) whose surface appeared "speckled of black", disappeared behind the clouds. The vision had lasted a few seconds and was apparently allowed by a thinning in the sky. The testimony of the three seers did not fail to elicit very diverse comments among the municipal employees of Besançon. Children from the Rue des Vieilles-Perrières reportedly also saw the celestial bolide at the same time.
It should be noted that Mr. Nicod was at the municipal workshops at Canot, a place close to the Rue des Vieilles-Perrières. The "saucer" in the shape of a cigar, was also seen in the direction of Beaume-Les-Dames.
An identical phenomenon was observed on Saturday morning at 7 a.m. in Vesoul, where a certain number of inhabitants of the town suddenly saw appearing above the hill of La Motte, going from west to east, a luminous object, of oval shape, in the yellow, orange colors, which, before disappearing, left behind a multicolored and flamboyant trail. The Observatory of Besançon, warned, was unable to give any information likely to explain these genuine visions...
The mystery remains whole: saucer, saucer-rocket, saucer-cigarette will continue to fuel conversations. The witnesses, formal, will give all the details possible to their interlocutors, most of whom will remain unfortunately skeptical. For those who have not seen feel an indefinable feeling in the depths of themselves, a sentiment not very noble, to say the least, of regret and vexation. Of envy perhaps.
"If you do not believe us, do not believe us," said the witnesses. And yet, we know well that we have seen.
[Ref. la1:] NEWSPAPER "L'ALSACE":
After Bergheim, Cernay in its turn saw a flying saucer
We reported in our last issue that Saturday in the morning, a flying saucer had been seen in the sky of Bergheim and Lunéville. The passage of that saucer was also recorded in Cernay.
It was 8 a.m. on Saturday, the sky was cloudless. Suddenly, several travelers who were waiting for a bus outside the church saw above them a disc of yellowish color, its size, reminded the full moon. A bright tail seemed attached to the "thing" that moved at high speed.
When the saucer, which came from the direction of the Vieil Armand, had passed the church, lightning tore the sky and hundreds of stars sprang out from all sides.
According to witnesses, the disc would have exploded, but without producing any sound.
[Ref. ci1:] CIA: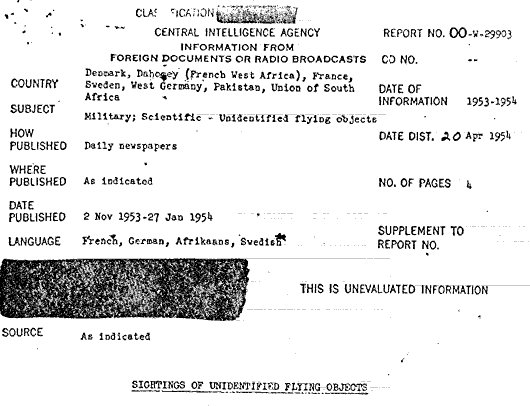 CLASSIFICATION [Blackened out]
CENTRAL INTELLIGENCE AGENCY
INFORMATION FROM
FOREIGN DOCUMENTS OR RADIO BROACASTS
| | | | | |
| --- | --- | --- | --- | --- |
| | | | REPORT NO. | 00-W-29903 |
| | | | CO NO.: | .. |
| COUNTRY: | Denmark, Dahomey (French West Africa), France, Sweden, West Germany, Pakistan, Union of South Africa | | DATE OF INFORMATION: | 1953-1954 |
| SUBJECT: | Military; Scientific - Unidentified flying objects | | | |
| HOW PUBLISHED: | Daily newspaper | | DATE DIST.: | 20 Apr 1954 |
| WHERE PUBLISHED: | As indicated | | NO. OF PAGES: | 4 |
| DATE PUBLISHED: | 2 Nov 1953 - 27 Jan 1954 | | | |
| LANGUAGES: | French, German, Afrikaans, Swedish | | SUPPLEMENT TO REPORT NO.: | |
| [Blackened out] | [Blackened out] | | THIS IS UNEVALUATED INFORMATION | |
| SOURCE: | As indicated | | | |
SIGHTINGS OF UNIDENTIFIED FLYING OBJECTS
[... (Reports from other countries and France) ...]
ROUND FLYING OBJECT SIGHTED AT LUNEVILLE -- Nice, Nice-Matin, 10 Jan 54
Three residents of Luneville, Meurthe-et-Moselle Department, claim to have seen a round object flying from north to south at about 0600 hours on 9 January. The object flew more slowly than a jet plane and left a luminous yellow trail. It flew noiselessly, although appearing to be at low altitude. Several students of the College de Luneville also saw the object.
[... (Next reports)]
[Ref. jg1:] JIMMY GUIEU:
Ufologist and science-fiction writer Jimmy Guieu reports that on January 9, 1954, in Lunéville, a red disc was seen, according to ufologist Charles Garreau's very detailed investigation.
[Ref. cg1:] CHARLES GARREAU:
French journalist and pioneer of French ufology Charles Garreau drew the map underneath to plot sightings which all occurred on January 9, 1954, between 06:15 a.m. and 07:50 a.m. in the East of France.
Though no narrative is joined, it is visible on the map that a sighting of some sort occurred on January 9, 1954, at 06:15 a.m., from the city of Lunéville or near to the city of Lunéville.
[Ref. bb1:] GERARD BARTHEL AND JACQUES BRUCKER:
The authors exclude that this case is the meteor of January 9 since it occurred on January 10 in the morning. They indicate that a document of Jean Graziana says:
"Three residents of Lunéville claim to have seen this morning, January 10, around 6 hours, a craft of round shape, moving north to the south. The craft, they state, flew slower than a jet and left behind a luminous trail of yellow color. It flew without any noise although seemingly at low altitude. In addition to these three eyewitnesses, among them a literature professor, several pupils of the college of Lunéville also saw this apparatus."
Elsewhere in their book they give two sketches, the one on the left is the trip of the flying saucer according to Charles Garreau, the one on the right is the trajectory of the meteor according to them:
The authors fustigate [rightly] the ufologists who like Charles Garreau took the hours of observations given in the newspapers literally [as if people were then provided with stop watches! These hours are generally only approximations made a posteriori] and then believed in a complicated flying saucer travel where a meteor had actually passed.
Barthel and Brucker specify that the North-West to South-East trajectory of the meteor of 7:50 is confirmed by testimonys coming from other countries.
[Ref. fg1:] LAWRENCE FAWCETT AND BARRY GREENWOD:
The authors say that the CIA collected many sightings through normal intelligence channels, something which they had supposedly fought to block with the Robertson Panel inquiry, and it included this one:
Round Flying Object Sighted at Luneville, France
Three residents of Luneville, Meurthe-et-Moselle Department claim to have seen a round object flying from North to South at about 0600 hours on January 9, 1954. The object flew more slowly than a jet plane but left a luminous yellow trail. It flew noiselessly, although appearing to be at a low altitude. Several students of the College of Luneville also saw the object.
[Ref. lg1] LOREN GROSS:
[... Other cases...]
France too.
Similarly, a UFO was reported wandering about over the countryside of France. The thing put on quite a show for two hours 6-8 a.m. on January 9th.
According to an investigator of the French civilian UFO group Ouranos, Charles Garreau, the sky object in question appeared first over the community of Luneville where it was seen glowing a brilliant scarlet. The same object was then over Nancy glowing yellow, and then above Montigny-le-Roy and two other towns, Langres and Gemeaux, where the object appeared red with green stripes. Finally, the thing was visible moving over Poligny showing a yellow-red color and leaving a blue trail behind it. Garreau makes no mention of the color of the UFO when it passed over two more towns but did say something about the object's maneuvers. As the thing sped over Chaumont it changed course while under observation, making a sharp turn and when arriving at Lons-le-Saulnier the thing hovered for a bit before speeding away leaving behind a huge red plume of smoke. Generally, the UFO's speed varied as did the altitude as indicated by witnesses statements, and the apparent size ranged from an orange to the full moon. 43.
[... Other cases...]
43. Guieu, Jimmy. Flying Saucers Come From Another World, p.148.
[Ref. go1:] GODELIEVE VAN OVERMEIRE:
Godelieve van Overmeire indicates that in 1954, on January 9, in France, in Lunéville "At 06:15: a line of dazzling light, a machine of round shape tears down the sky of Lunéville, it goes from the north towards the south, in silence, faster than a plane. (Charles GARREAU: 'Alerte dans le ciel: le dossier des enlèvements' Alain Lefeuvre pub. 1981, p.100, 101)"
[Ref. jb1:] JEROME BEAU:
1954
January
[...]
Observation in Lunéville (France).
[Ref. lc1:] LUC CHASTAN:
Luc Chastan indicates that in the Meurthe et Moselle in Lunéville on January 9, 1954 at 06:15 hours, there was an "Observation of a discoïdal object of a dazzling red luminosity, throwing reflections of blood on the snow-covered countryside and leaving a long red trail. Going towards the south-west."
The source is given as "Les soucoupes volantes viennent d'un autre monde by Guieu Jimmy ** Fleuve Noir 1954".
Explanations:
The January 9, 1954, 07:48 a.m. meteor.
Keywords:
(These keywords are only to help queries and are not implying anything.)
Lunéville, Meurthe-et-Moselle, red, disc, multiple, Thibaut, trail, beam, light, round, fast, silent, red, reddish
Sources:
[---] indicates sources which I have not yet checked.
Document history:
| Version: | Created/Changed by: | Date: | Change Description: |
| --- | --- | --- | --- |
| 0.1 | Patrick Gross | December 28, 2004 | First published. |
| 1.0 | Patrick Gross | December 19, 2009 | Conversion from HTML to XHTML Strict. First formal version. Addition [lc1]. |
| 1.1 | Patrick Gross | December 25, 2009 | Addition [fg1]. |
| 1.2 | Patrick Gross | January 10, 2010 | Addition [go1]. |
| 1.3 | Patrick Gross | October 25, 2014 | Addition [la1]. |
| 1.4 | Patrick Gross | November 2, 2016 | Addition [lg1]. |
| 1.1 | Patrick Gross | January 25, 2017 | Addition [er1]. |