The 1954 French flap:
The index page for the 1954 French flap section of this website is here.
October 8, 1954, Poulhan, Finistère:
Reference number for this case: 8-Oct-54-Poulhan. Thank you for including this reference number in any correspondence with me regarding this case.
Reports:
[Ref. ge1] UFOLOGY GROUP "GEPSI":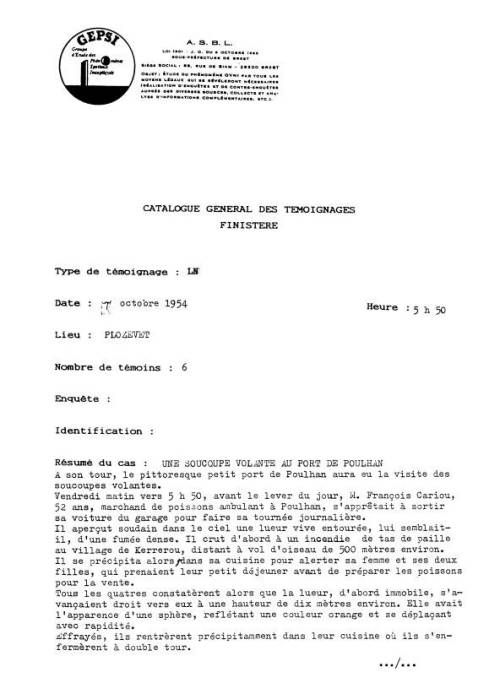 GEPSI
Groupe d'Etude des Phénomènes Spatiaux Inexpliqués [Unexplained Space Phenomena Study Group]
A.S.B.L.
1901 LAW - OFFICIAL JOURNAL OF OCTOBER 6, 1983
HEADQUARTERS [] RUE DE SIAM - 29200 BREST
OBJECT: STUDY OF THE UFO PHENOMENON BY ALL
LEGAL MEANS WHICH MAY PROVE NECESSARY
(INVESTIGATIONS AND COUNTER-INVESTIGATIONS
TO THE VARIOUS SOURCES, COLLECT AND ANA-
LYSIS OF ADDITIONAL INFORMATION, ETC.)

GENERAL CATALOGUE OF WITNESSES
FINISTERE
Type of testimony: NL [Nocturnal Light]
Date: October 7, [8], 1954
Time: 5:50
Location: PLOZEVET
Number of witnesses: 6
Investigation:
Identification:
Summary of the case A FLYING SAUCER AT THE HARBOR OF POULHAN
In its turn, the picturesque small harbor of Poulhan had the visit of the flying saucers.
Friday morning at about 5:00, before the start of the day, Mr. François Cariou, aged 52, traveling fish merchant in Poulhan, was on the point of getting his car out of the garage to make his working day round.
He suddenly saw a sharp gleam in the sky, which seemed surrounded by a dense smoke to him. He initially believed in a fire of a heap of straw at the village of Kerrerou, distant of 500 meters approximately in straight line. He then rushed in his kitchen to alert his wife and their two daughters, who had their breakfast before preparing fish for sale.
All four noted then that the gleam, initially motionless, advanced right towards them at a height a ten meters approximately. It had the appearance of a sphere, reflecting an orange color and moving fast.
Frightened, they returned precipitately in their kitchen where they locked up their door twice.
.../...
[Ref. jv1:] JACQUES VALLEE:
204
Oct. 07, 1954, early, Plozevet (France).
The crew of several fishing boats saw a luminous, orange-colored object over the coast, apparently surrounded by dense smoke. Villagers saw the same object and stated independently that it came within 10 m of the ground, then flew away to the southeast.
(41; M 140) (France-Soir, 9 Oct. 1954).
(The part regarding the observation is in bold.)
Notes:
The GEPSI file seems to be the transcription of a newspaper article.
There is a problem with the date of the sighting. The text given by GEPSI says it was Friday morning. GEPSI dates the case of the 7th. But this Friday was the 8th.
Explanations:
Not looked for yet.
Keywords:
(These keywords are only to help queries and are not implying anything.)
Poulhan, Plozevet, Finistère, harbor, morning, François Cariou, multiple, gleam, bright, light, fire, movement, low, sphere, fast, orange, frightened, smoke
Sources:
[---] indicates sources which I have not yet checked.
Document history:
| Version: | Created/Changed by: | Date: | Change Description: |
| --- | --- | --- | --- |
| 0.1 | Patrick Gross | July 12, 2007 | First published. |
| 1.0 | Patrick Gross | January 26, 2009 | Conversion from HTML to XHTML Strict. First formal version. |