The 1954 French flap:
The index page for the 1954 French flap section of this website is here.
October 3, 1954, Calaiis, Pas-de-Calais:
Reference for this case: 3-Oct-54-Calais.
Please cite this reference in any correspondence with me regarding this case.
Summary:
In 1978, and again around 2017, the "skeptical" ufologist Dominique Caudron, based in the Nord, cataloged sightings in the Nord region for October 3, 1954, neglected by ufologists, including many that were previously unpublished, and mostly explainable by a red moon whose appearance was altered by clouds.
One of these observations was reported in the regional newspaper Le Nouveau Nord Maritime for October 7, 1954:
In the evening, at an unspecified hour, in Calais, people saw rockets like "the flying wake of flying saucers". It was actually distress signals launched by aeronaut Paulette Wéber.
This was indeed reported in an article in the regional newspaper Le Nouveau Nord Maritime for October 7, 1954:
"Finally, rockets had been seen on Sunday evening, off Calais. "It was like the luminous wake of flying saucers", some had said. In fact, it was the distress signals launched by Mrs. Paulette Weber's spherical balloon."
Reports:
[Ref. nnm1:] NEWSPAPER "LE NOUVEAU NORD MARITIME":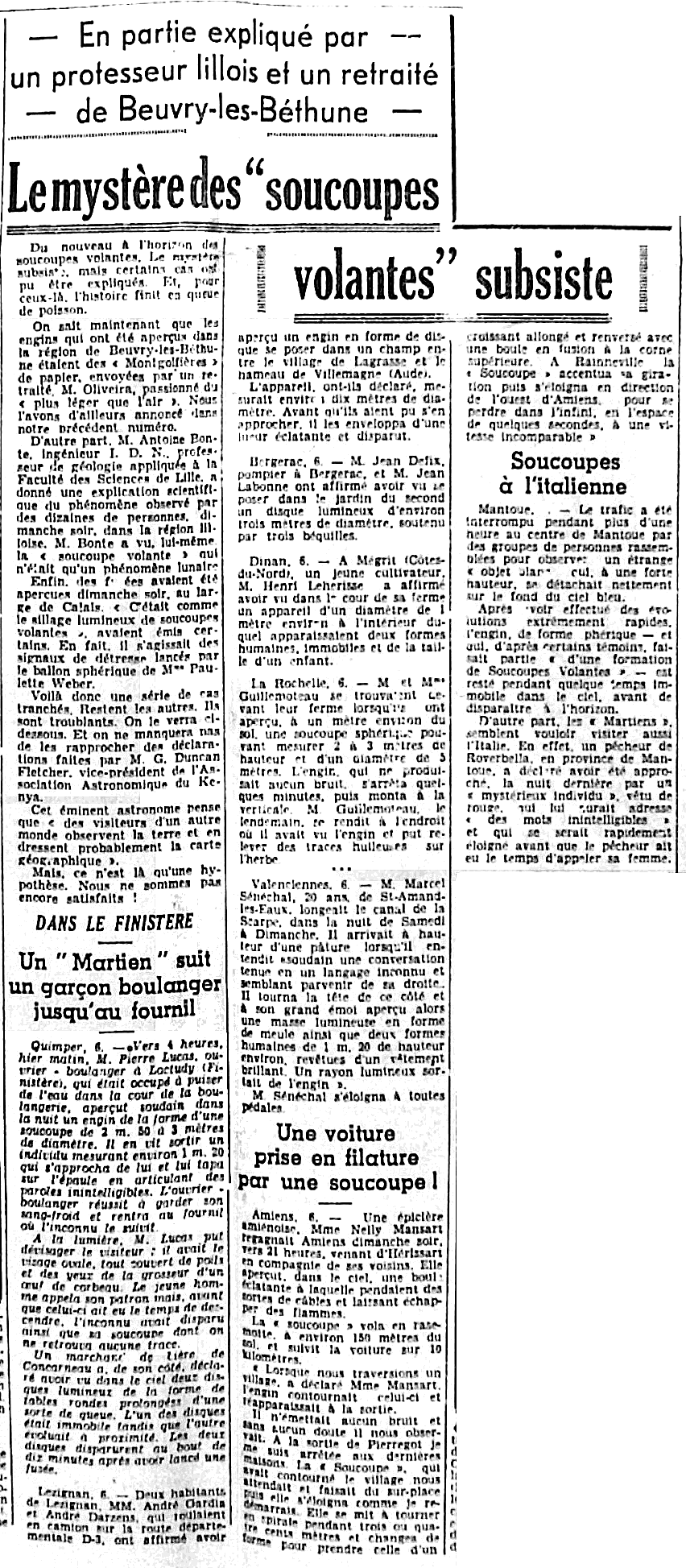 - Partly explained by -
a professor from Lille and a retiree
- from Beuvry-les-Béthune -
The mystery of the "flying saucers"
There is novelty on the flying saucer horizon. The mystery remains, but some of the cases were explained. And, for those, the story ends there.
We now know that the craft that were seen in the Beuvry-les-Béthune region were "Paper hot air balloons", sent by a retiree, Mr. Oliveira, passionate about "lighter than air" gear. We announced it in our previous issue.
On the other hand, Mr. Antoine Bonte, I.D.N. engineer, professor of applied geology at the Faculty of Sciences of Lille, gave a scientific explanation of the phenomenon observed by dozens of people, Sunday evening, in the Lille region. Mr. Bonte himself saw the "flying saucer" which was only a lunar phenomenon.
Finally, rockets had been seen Sunday evening, off Calais. "It was like the luminous wake of flying saucers", some said. In fact, it was the signals of distress launched by the spherical balloon of Mrs. Paulette Weber.
So that's a series of solved cases. The others remain. They are disturbing. We will see it below. And we will not fail to compare them with the statements made by Mr. G. Duncan Fletcher, vice-president of the Astronomical Association of Kenya.
This eminent astronomer believes that "visitors from another world are observing the earth and probably mapping it."
But that's just a guess. We are not satisfied yet!
IN THE FINISTERE
A "Martian" follows
a baker boy
into the bakery
Quimper, 6. -- Around 4 a.m., yesterday morning, Mr. Pierre Lucas, worker-baker in Loctudy (Finistère), who was busy drawing water in the courtyard of the bakery, suddenly saw in the night a craft in the shape of a saucer of 2.50 m. to 3 meters in diameter. He saw come out of it an individual measuring about 1.20 m. who approached him and tapped him on the shoulder, mouthing unintelligible words. The baker managed to keep his cool and returned to the bakery where the stranger followed him.
In the light, Mr. Lucas was able to stare at the visitor: he had an oval face, all covered with hair and eyes the size of a crow's egg. The young man called his boss but, before the latter had time to come down, the stranger had disappeared along with his saucer, of which no trace was found.
A beer merchant of Concarneau, for his part, declared having seen in the sky two luminous disks in the form of round tables extended of a kind of tail. One of the discs was stationary while the other moved nearby. The two discs disappeared after ten minutes after launching a rocket.
Lezignan, 6. -- Two residents of Lezignan, MM. André Gardia and André Darzens, who were driving in a truck on the D-3 departmental road, claimed to have seen a disc-shaped craft land in a field between the village of Lagrasse and the hamlet of Villemagne (Aude).
The craft, they said, was about ten meters in diameter. Before they could approach it, it enveloped them in a bright glow and disappeared.
Bergerac, 6. -- Mr. Jean Defix, firefighter in Bergerac, and Mr. Jean Labonne claimed to have seen land in the garden of the latter a luminous disc about three meters in diameter, supported by three crutches.
Dinan, 6. -- In Mégrit (Côtes-du-Nord), a young farmer, Mr. Henri Lehérisse claimed to have seen in the yard of his farm a craft of a diameter of about 1 meter inside which appeared two human shapes, motionless and the size of a child.
La Rochelle, 6. -- Mr. and Mrs. Guillemoteau were in front of their farm when they saw, about one meter above the ground, a spherical saucer that could measure 2 to 3 meters in height and with a diameter of 5 meters. The craft, which produced no noise, stopped for a few minutes, then rose vertically. Mr. Guillemoteau, the next day, went to the place where he had seen the craft and was able to find oily traces on the grass.
* * *
Valenciennes, 6. -- Mr. Marcel Sénéchal, 20-year-old, from Saint-Amand-les-Eaux, was along the Scarpe canal, in the night from Saturday to Sunday. He was coming up to a pasture when he suddenly heard a conversation held in an unknown language and seeming to come from his right. He turned his head in this direction and to his great astonishment then saw a luminous mass in the shape of a haystack as well as two human forms of 1.20 m. in height approximately, covered with shining garments. A ray of light was coming out of the craft.
Mr. Sénéchal pedaled away at full speed.
A car
followed
by a saucer!
Amiens, 6. A grocer from Amiens, Mrs. Nelly Mansart returned to Amiens on Sunday evening, around 9 p.m., coming from Hérissart in the company of her neighbors. She saw, in the sky, a glowing ball from which hung some kind of cables hung and letting out flames. The "saucer" flew low, about 150 meters above the ground, and followed the car for 10 kilometers.
"When we passed through a village, said Ms. Mansart, the craft bypassed it and reappeared at the exit.
It was making no noise and was definitely watching us. On leaving Pierregot I stopped at the last houses. The "Saucer", which had bypassed the village, was waiting for us and hovered then it moved away as I started again. It began to spiral for three or four hundred meters and changed shape to take that of an elongated, inverted crescent with a molten ball at the upper horn. At Rainneville the "Saucer" increased its gyration then moved away in the direction of the west of Amiens, to lose itself in infinity, in the space of a few seconds, at an incomparable speed."
Italian saucer
Mantua. -- Traffic was interrupted for more than an hour in the center of Mantua by groups of people gathered to observe a strange "white object" which, at a great height, stood out clearly against the background of the blue sky.
After performing extremely rapid moves, the spherical craft - which, according to some witnesses, was part of "a formation of flying saucers" - remained motionless in the sky for some time, before disappearing at the horizon.
Also, the "Martians" seem to want to visit Italy as well. A fisherman from Roverbella, in the province of Mantua, said he was approached last night by a "mysterious individual", dressed in red, who would have said "unintelligible words" to him and who would have quickly moved away, before the fisherman had time to call his wife.
[Ref. dcn1:] DOMINIQUE CAUDRON:
The weekend of October 2-3 appears on all graphs as the maximum-maximorum of the 1954 wave. Although the work of counting the press of the time is not yet finished, the 118 various issues of newspapers and magazines I have been able to analyze for this period gives us an almost complete overview, in any case very broadly representative of the regional observations which were reported in the press for Sunday, October 3. I included the observations of the Somme which seemed to me inseparable from those of Nord - Pas-de-Calais and which also appear in the chapter entitled "Zigzag on the mining country" of the book by A. Michel: "Mystérieux Objets Célestes."
I count, as one case, each observation made by an independent group of witnesses. The astonishing quantity of observations reported below, shows once again the interest of thoroughly searching the newspaper archives.
OCTOBER 3, 1954:
[... other cases...]
4) Evening, time not specified. CALAIS - 62. The witnesses reportedly saw like "luminous wakes of flying saucers" which were in fact only distress rockets. (le Nouveau Nord Maritime, p. 5, 10/7)
[... other cases...]
[Ref. dcn3:] DOMINIQUE CAUDRON:
Dominique Caudron drew up an inventory of observations in the Nord on October 3, 1954, containing 51 reports, including this one:
The Fabulous day of October 3, 1954
[...]
Chronology of the observations of October 3.
We give here only a summary of what was published in the press of the time, for the nord region, regardless of what the ufologists could later say. We have numbered all these observations, the first of which have nothing to do with the setting of the moon, in order to be able to study them globally in a table. Some are already the subject of a special file.
[... other cases...]
04) Evening, hour not specified, CALAIS (62)
- Witnesses saw rockets like "the flying wake of flying saucers". It was distress signals launched by aeronaut Paulette Wéber.
(le Nouveau Nord Maritime 7/10 page 5)
[... other cases...]
All this is only a compilation of the information given by all newspapers of the time, including local editions, and of which ufologists only used a part.
We will see that the analysis of this information makes it possible to eliminate the hypothesis of a flying saucer, in favor of those of multiple observations of the moon, whose image was reddened and deformed by clouds, which also gave it a illusory apparent movement.
[Ref. dcn4:] DOMINIQUE CAUDRON:
Analysis of the observations of October 3, 1954
[... other cases...]
04) Evening, hour not specified, CALAIS (62)
alarm fireworks according to the newspaper
[... other cases...]
Explanations:
Alarm flares.
Keywords:
(These keywords are only to help queries and are not implying anything.)
Calaiis, Pas-de-Calais, multiple, rockets, wake, aeronaut, Paulette Wéber, flares
Sources:
[----] indicates sources that are not yet available to me.
[nnm1] Article in the regional newspaper Le Nouveau Nord Maritime, Dunkirk, Nord, France, page 5, October 7, 1954.
[dcn1] "Chronologie d'un dimanche fantastique", article by Dominique Caudron, in the ufology bulletin Recherches Ufologiques, of the GNEOVNI ufology group, France, #5, 2nd quarter 1978.
[dcn3] "La fabuleuse journée du 3 octobre 1954", web page by Dominique Caudron, France, last updated February 21, 2017, at http://oncle.dom.pagesperso-orange.fr/paranormal/ovni/confusions/lune/3_octobre/chronologie.htm
[dcn4] "Analyse des observations du 3 octobre 1954", web page by Dominique Caudron, France, last updated February 21, 2017, at http://oncle.dom.pagesperso-orange.fr/paranormal/ovni/confusions/lune/3_octobre/analyse.htm
Document history:
| Version: | Created/Changed by: | Date: | Change Description: |
| --- | --- | --- | --- |
| 1.0 | Patrick Gross | June 5, 2019 | First published. |
| 1.1 | Patrick Gross | January 23, 2020 | Addition [dcn1]. In the Summary, "Around 2017" changed to "In 1978, and again around 2017". |
| 1.2 | Patrick Gross | March 13, 2022 | Addition [nnm1]. |