The 1954 French flap:
The index page for the 1954 French flap section of this website is here.
September 22, 1954, Clermont-Ferrand, Puy-de-Dôme:
Reference number for this case: 22-Sep-54-Clermont-Ferrand. Thank you for including this reference number in any correspondence with me regarding this case.
Summary:
The regional newspaper Sud-Ouest for September 24, 1954, mentioned an observation in Clermont-Ferrand, without specifying anything else.
Ufologists made with that a case dated September 24, 1954; which seems hardly possible since it would be the date of publication in the press.
Apparently, ufologist Michel Jeantheau found in this same Sud-Ouest for September 24, 1954, that a "luminous flat ruler" was sighted in Clermont-Ferrand on September 22, 1954.
Reports:
[Ref. lml1:] "LE MIDI LIBRE" NEWSPAPER: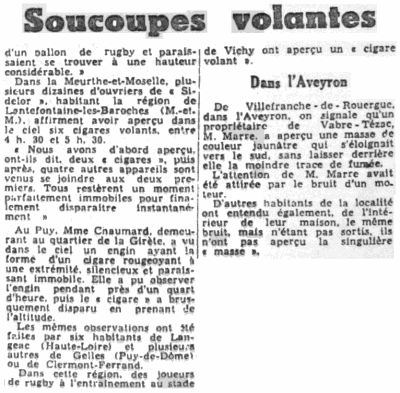 Flying saucers
of a rugby ball and appeared to be at a considerable height."
In the Meurthe-and-Moselle, several tens of workmen of "Sidelor", living the area of Lantefontaine-les-Baroches (M.-and-M.). claim to have seen six flying cigars between 04:30 and 05:00 in the sky .
"We initially saw, they said, two "cigars", then afterwards, four other craft came to join the two first. All remained motionless one moment for finally disappearing instantaneously."
In Le Puy, Mrs. Chaumard, resident of the district of La Girète, saw in the sky a machine having the shape of a cigar reddish glowing at an end, silent and appearing motionless. She managed to observe the machine during nearly a quarter of hour, then the "cigar" suddenly disappeared by taking altitude.
The same observations were made by six inhabitants of Langeac (Haute-Loire) and several inhabitants of Gelles (Puy-de-Dome) or Clermont-Ferrand.
In this area, rugby players training at the Vichy stadium saw a "flying cigar".
In the Aveyron
From Villefranche-of-Rouergue in Aveyron, it is reported that an owner of Vabre-Tézac, Mr. Marre, saw a yellowish mass of color which moved away towards the south, without leaving behind any trace of smoke.
The attention of Mr. Marre had been drawn by the noise of an engine.
Other inhabitants of the locality also heard, from the inside of their house, the same noise, but not having come out, they did not see the weird "mass."
[Ref. aml3:] AIME MICHEL:
Writing about the alignment of observations Bayonne-Vichy for September 24, 1954, he thought he discovered, Aimé Michel noted:
I had, at the end of my investigation in 1957, found nine points in all. Searching for years, Jacques Vallée found five others.
It turns out that on five additional observations one (Sierra de Gardunha, Portugal) is situated on Bavic, which thus becomes a seven-point alignment of enormous improbability, and that the other four (Vierzon, Clermont-Ferrand, Besançon and Grenoble) form two new alignments.
[Ref. mju1:] MICHEL JEANTHEAU:
While browsing his documentation to check the cases alloted to the September 24 of 1954 that presumedly formed an line with Bayonne and Vichy as reference points, Michel Jeantheau checks on a case that Jacques Vallée indicated as of September 24, 1954 in Clermont-Ferrand.
He notes that it is impossible to know which observation in Clermont-Ferrand Jacques Vallée intends to refer to since he does not give any source or description.
He finds out in the regional newspaper Sud-Ouest, of Bordeaux, for September 24, 1954, that a "flat luminous ruler" was seen in Clermont-Ferrand on September 22, 1954.
[Ref. goe1:] GODELIEVE VAN OVERMEIRE:
The Belgian ufologist indicates that in 1954, on September 24 in France, in Clermont-Ferrand "unspecified hour: a luminous machine of lengthened form."
The source is indicated as "M. FIGUET/J.L. RUCHON: "Ovni, le premier dossier complet.." - éd. Alain Lefeuvre 1979, p. 85."
[Ref. lcn1:] LUC CHASTAN:
Luc Chastan indicates that in the "Puy de Dômes" in Clermont Ferrand on September 24, 1954 at an unknown hour "a luminous craft of lengthened form is observed. "
The source is noted as "Ovni, Premier dossier complet... par Figuet M./ Ruchon J.L. ** éd. Alain Lefeuvre 1979".
Explanations:
Totally insufficient information.
Keywords:
(These keywords are only to help queries and are not implying anything.)
Clermont-Ferrand, Puy-de-Dôme, flat, luminous
Sources:
[----] indicates sources which I have not yet checked.
[----] Article in the regional newspaper Sud-Ouest, Bordeaux, France, September 24, 1954.
[lml1] Article in the regional newspaper Le Midi Libre, France, September 28, 1954.
[aml3] "Mystérieux Objets Célestes - Les Données du Problème", article by Aimé Michel, in the ufology magazine Lumières Dans La Nuit (LDLN), France, #84, page 8, September / October 1966.
[mju1] "Que devient BAVIC, ou la journée du 24 septembre 1954 revue et corrigée", article by Michel Jeantheau, reprinted in "Le dossier 1954 et l'imposture rationaliste", book by Jean Sider, Ramuel publisher, France, page 149, 1997.
[goe1] "Chronologie OVNI", compiled by Godelieve van Overmeire, Belgium, circa 1999, at users.skynet.be/sky84985/asept54.htm
[lcn1] Base OVNI France, website by Luc Chastan, France, circa 2005, at baseovnifrance.free.fr/listgen.php?typlist=2&page=27&numobs=414
Document history:
| Version: | Created/Changed by: | Date: | Change Description: |
| --- | --- | --- | --- |
| 0.1 | Patrick Gross | April 11, 2006 | First published. |
| 1.0 | Patrick Gross | January 17, 2010 | Conversion from HTML to XHTML Strict. First formal version. |
| 1.1 | Patrick Gross | February 10, 2010 | Addition [goe1], [lcn1]. |
| 1.2 | Patrick Gross | August 30, 2019 | Additions [aml3], Summary. Explanatuions changed, were "Not looked for yet." |