The 1954 French flap:
The index page for the 1954 French flap section of this website is here.
October 16, 1954, Sedan, Ardennes:
Reference number for this case: 16-oct-54-Sedan. Thank you for including this reference number in any correspondence with me regarding this case.
Reports:
[Ref. ar1:] "L'ARDENNAIS" NEWSPAPER:

Two exceptionnal documents:
THE "SAUCER"
which hovered saturday evening
above SEDAN
has been photographed
We announced yesterday that several people saw a luminous spot of round form, above the area of Sedan, Saturday in the evening. We did not want to give an exaggerated importance to this news, at a time when minds are influenced by the accounts related to strange appearances.
But the fact that this luminous spot could be fixed on photographic film obliges us to come out of our reserve.
The documents which we publish are absolutely authentic and they are by no means about trick photographs. These two photographs were taken Saturday at about 10 P.M. (the witnesses, in their emotion forgot the exact time) from a window of a building of Jean-Jaurès street in Sedan. Two witnesses were with the photographer. It is this latter who, wanting to take some air at the window of his room, was the first to see this abnormal gleam which intrigued other witnesses, in different places. Two policemen, in faction at the Sports Stadium, saw a luminous disc, at about 09:30 P.M.. Several young people, coming from the direction of Vrigne also saw it. When the photographs which we publish were taken, their author was unaware of any of the other observations.
These two photographs were taken with a "Sem Flex" 6x6, opening 3.5; exposure time: 1 second for the first and 2 seconds for the other; "Per Omnia" 23 filmstrip.
The smaller spot is the moon which reached its second district yesterday evening. The luminous disc, definitely larger than the moon, strongly impressed the film.
On the enlargings one clearly distinguishes an obscure central core in the middle of the luminous disc.
A photograph had been taken by an amateur on the side of the "Moulin à Vent" ("Windmill"). Unfortunately, the exposure time was too short: 1/100th of a second, it did not provide anything of value when developped.
[Ref. er1:] "L'EST REPUBLICAIN" NEWSPAPER: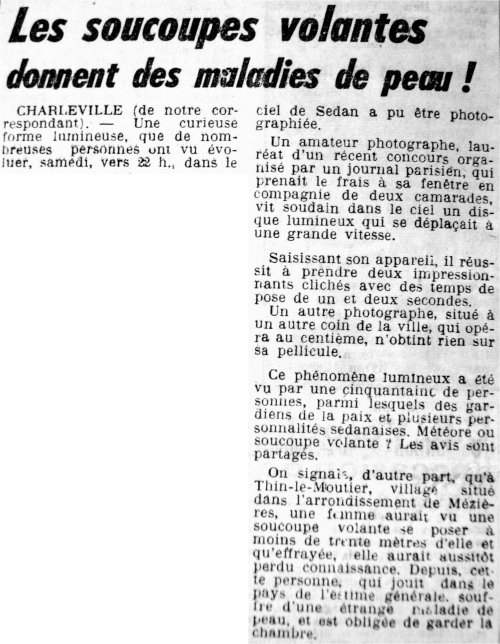 Flying saucers give skin diseases!
Charleville (from our correspondent). -- A curious luminous form, which many people saw moving, Saturday, around 10 p.m. in the sky of Sedan was photographed. An amateur photographer, who took the fresh air at his window in the company of two comrades, suddenly saw in the sky a luminous disc which moved at a high speed.
Grabbing his camera, he managed to take two impressive shots with exposure times Of one or two seconds.
This lighting phenomenon has been seen by some fifty people, including police officers and several Sedanese personalities.
Meteor or flying saucer, opinions are divided.
On the other hand, it is pointed out that in Thin-le-Moutier, a village in the district of Mezière, a Woman would have seen a flying saucer land less than thirty meters away from her and frightened, she Would have immediately lost consciousness. Since then that person, who enjoys general esteem in the country, suffers from a strange skin disease and is obliged to stay in her bedroom.
[Ref. ar2:] "L'ARDENNAIS" NEWSPAPER:
OUR READERS
HAVE THEIR SAY
THE DISC
PHOTOGRAPHED IN SEDAN
WAS SPOTTED IN ATTIGNY
We received the following letter from one of our readers in Attigny:
I read your article supported by several photographs of the "FLYING SAUCER" of Sedan with much interest.
In the torpor of this gentle autumn evening, ATTIGNY was too indifferent to realize that strange tourists visited the Ardennes sky, scorning our tourist offices and even our cooking specialities which are however quite enticing.
As this gentelman in Sedan breather the air at his window, observed, and had time to take photographs, I took the air too in my garden, Saturday evening at 09:30 P.M. Maybe the time and the temperature were admirably suitable to that.
My presence could not have been more convenient, if I had taken rendez-vous at a contradictory meeting, in which I was decided to oppose my absolute scepticism.
And yet I very clearly saw it pass - my eyes staring at a constellation at the south - in front of the latter, at an exceptional pace, a luminous sphere, very bright, followed by a long trail which could have been the exhaust of a powerful jet, or more simply, the heating of cosmic dusts caused by speed.
All my attention was focused at the passage of this bolide which went with grace in an impressive silence. This fireworks lasted only 3 or 4 seconds, limited as I was by the portion of the sky ranging between two groups of buildings.
We can only congratulate you for your impartial effort [] your fitting reflexions. It is indeed too simple to ridicule events which one does not know but about it is discussed more and more. The most difficult task for a journalist is to make this discrimination between the illusionism, mystification and reality.
It may be lightheartdly, even with liveliness, joked at it, but it would perhaps also be useful to encourage sincere testimonys in order to correctly inform the readers about a course of facts which have nothing tenderizing enough to be compared with love stars; and which deserves a serious attention.
In its fugacity and silence, this phenomenon could be seen only by chance, exactly as one wins with the national lottery. (That did not happen to me yet). Here, the chances could be easily increased by setting up groups of qualified and perspicacious observers.
It was turnover time at the Sugar Refinery of Attigny, the night shift was on its way. Among those, I found witnesses who have been marvelling at this beautiful comet.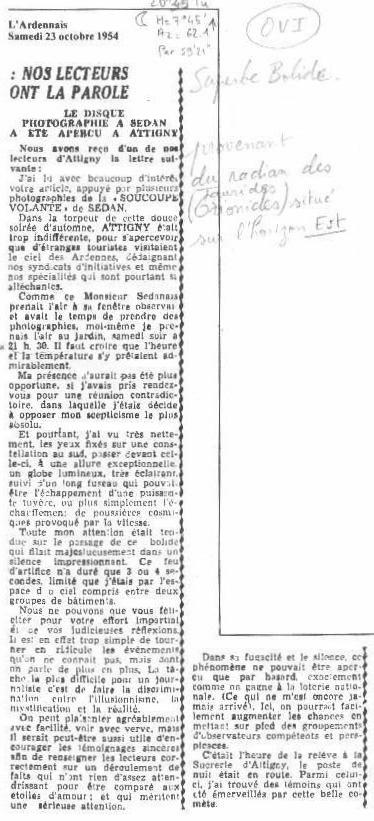 [Ref. am1:] AIME MICHEL:
Aimé Michel wrote about the October 16, 1954, 09:30 p.m. meteor:
THE TEST OF THE METEOR. October 16, as if it was purposely, a splendid meteor crossed the north of France towards 09:30 p.m.. It was observed on a score of departments by thousands of people, from the Allier to Lorraine and from the Swiss border to Paris. Naturally many witnesses believed to have seen a Flying Saucer and said so. The newspapers printed "Flying Saucer in Orly", or "in Montididier", or "in Metz." But once again the description made by all these weak brains appeared of a remarkable honesty.
[...]
The innumerable gathered testimonys show indeed that even when the witnesses called "Flying saucer" the observed object, their description is identical on 200.000 square kilometres where the visible phenomenon was visible: an "orange ball followed by a trail", a "large luminous ball with a tail", a "flying egg followed by a trail", a "bottle's bottom with a trail of thirty times its diameter", etc. The same phenomenon is uniformly described.
[...]
[Ref. jd1:] JEAN-PHILIPPE DAIN:
Ref. UFOTO : 0174
16 OCT 1954
Location : Sedan (FRA) / Author :
[Ref. em1:] ERIC MAILLOT:
Eric Maillot re-examines the cases noted by Jean-Michel Ligeron and indicates that the cases for October 16, 1954 at 09:15 p.m. in all the department of the Ardennes were caused by a meteor probably of the Taurids, "radian in the East."
[Ref. bo1:] VICENTE-JUAN BALLESTER-OLMOS:
(60)
DATE: 16 October 1954
LOCATION: Sedan, Ardennes (France)
FORMAT: Picture
PHOTOGRAPHER: Not known
EXPLANATION: Lunar lens flare (as per Eric Maillot)
REFERENCES: L'Ardennais, October 19, 1954, released in Jean-Michel Ligeron's O.V.N.I. en Ardennes, 1981, page 134. Eric Maillot.
REMARKS: Nil
[Ref. jb1:] JEROME BEAU:
Jérôme Beau reproduces the transcription and the scan of the article in L'Ardenais, October 23, 1954, indicating as source "Gross, P.: '16 OCTOBRE 1954, SEDAN, ARDENNES:', Ufologie.net, May 15, 2004".
[Ref. lc1:] LUC CHASTAN:
Luc Chastan indicates that in the Ardennes in Sedan on October 16, 1954 at 21:30 hours, "Observation by many witnesses of a luminous spot of round form. Two policemen, on guard at the Sports stadium, speak about a luminous disc. This luminous disc was in the sky at the same time as the Moon, but was much larger. An obscure core could be seen on the enlargings of the photographs which were made of this appearance." And: "The small spot is the Moon" in caption of the picture from the newspaper [ar1].
The source is said to be my website, as "Les OVNI vus de près by Gross Patrick ** http://ufologie.net".
[Ref. ub1:] "UFO-DATENBANK":
| Case Nr. | New case Nr. | Investigator | Date of observation | Zip | Place of observation | Country of observation | Hour of observation | Classification | Comments | Identification |
| --- | --- | --- | --- | --- | --- | --- | --- | --- | --- | --- |
| 19541016 | | | 16.10.1954 | | Mezieres | France | | | | |
| 19541016 | | | 16.10.1954 | | Sedan | France | 22.00 | NL | | |
| 19541016 | | | 16.10.1954 | | Sedan | France | | | | |
Explanations:
The meteor of October 16, 1954, at 09:30 p.m..
Keywords:
(These keywords are only to help queries and are not implying anything.)
Sedan, Ardennes, Rue Jean Jaurès, police, multiple, object, disc, luminous, Vrignes, Nadège Mansart, Moon, photo, photograph, picture, comet, meteor
Sources:
[---] indicates sources which I have not yet checked.
Document history:
| Version: | Created/Changed by: | Date: | Change Description: |
| --- | --- | --- | --- |
| 0.1 | Patrick Gross | May 15, 2004 | First published. |
| 1.0 | Patrick Gross | December 26, 2009 | Conversion from HTML to XHTML Strict. First formal version. Additions [bo1], [jb1], [lc1]. |
| 1.1 | Patrick Gross | January 17, 2010 | Addition [jd1]. |
| 1.2 | Patrick Gross | December 2, 2016 | Additions [er1], [ub1]. |