The 1954 French flap:
The index page for the 1954 French flap section of this website is here.
October 14, 1954, Fouesnant, Finistère:
Reference for this case: 14-Oct-54-Fouesnant.
Please cite this reference in any correspondence with me regarding this case.
Summary:
In the archives of the GEPSI ufology group, from the Finistère, I was able to find a case dated October 14, 1954; which took place in or near Fouesnant.
The GEPSI indicated that it was an observation of the "Nocturnal Lights" type, taking place from 10:20 p.m. to 10:22 p.m., with two witnesses, that the source was a fishing-guard boat from Concarneau, and that the investigation revealed that it was a misinterpretation caused by alarm flares.
The start of an article in an unidentified press source was cited by the GEPSI.
Reports:
[Ref. gei1:] UFOLOGY GROUP "GEPSI":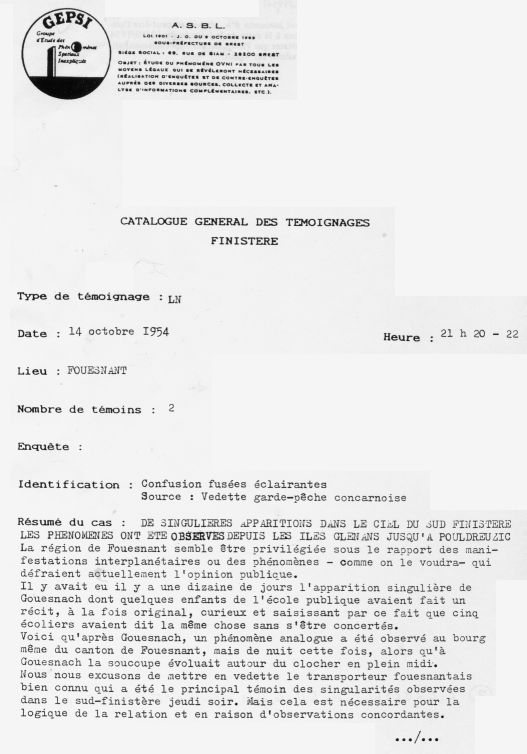 Groupe d'Etude des Phénomènes Spatiaux Inexpliqués [Unexplained Space Phenomena Study Group]
A.S.B.L.
1901 LAW- OFFICIAL JOURNAL OF OCTOBER 6, 1983
HEADQUARTERS [] RUE DE SIAM - 29200 BREST
OBJECT: STUDY OF THE UFO PHENOMENON BY ALL
LEGAL MEANS WHICH MAY PROVE NECESSARY
(INVESTIGATIONS AND COUNTER-INVESTIGATIONS
TO THE VARIOUS SOURCES, COLLECT AND ANA-
LYSIS OF ADDITIONAL INFORMATION, ETC.)
GENERAL CATALOGUE OF WITNESSES
FINISTERE
Type of testimony: LN
Date: October 14, 1954
Heure: 09:20 - 22 p.m.
Place: FOUESNANT
Number of witnesses 2
Investigation:
Identification: Confusion flares
Source: fishing regulation speedboat from Concarneau
Summary of the case: WEIRD APPEARANCES IN the SKY OF SOUTH FINISTERE
THE PHENOMENA HAVE BEEN OBSERVED FROM ISLANDS GLENANS TO POULDREUZIC
The area of Fouesnant seems to be privileged fot reports of interplanetary demonstrations or phenomena - as you want - which currently agitate the public opinion.
There had been ten days ago the weird appearance of Gouesnach whose some children of the public school had made an account, at the same time original, curious and puzzling by this fact that five school children had said the same thing without to have spoken together.
Here after Gouesnach, a similar phenomenon was observed in the very borough of the canton of Fouesnant, but by night this time, whereas in Gouesnach the saucer evolved around the bell-tower in full midday. We excuse ourselves to put in the high-speed motorboat of the well-known conveyor of Fouesnant who was the principal witness of the oddities observed in the south-finistère Thursday evening, but that is necessary for logic of the relation and because of concordant observations.
../..
[Ref. uda1:] "UFODNA" WEBSITE:
The website indicates that on 14 October 1954 in Fouesnant, France, there was a sighting.
The website indicates that the source is "Vallee, Jacques, Computerized Catalog (N = 3073)".
[Ref. ubk1:] "UFO-DATENBANK":
| Case Nr. | New case Nr. | Investigator | Date of observation | Zip | Place of observation | Country of observation | Hour of observation | Classification | Comments | Identification |
| --- | --- | --- | --- | --- | --- | --- | --- | --- | --- | --- |
| 19541014 | | | 10/14/1954 | | Fouesnant | France | | | | |
Explanations:
Alarm flares.
Keywords:
(These keywords are only to help queries and are not implying anything.)
Fouesnant, Finistère, confusion, rocket, night
Sources:
[----] indicates sources that are not yet available to me.
[gei1] File record, GEPSI ufology group, France.
[uda1] "14 Oct 1954 - Fouesnant, France", web page at the UFOdna website, circa 2007, at www.ufodna.com/uf02/uf2/022767.htm
[ubk1] Online database UFO-Datenbank, Germany, found in 2016, at ufodatenbank.de
Document history:
| Version: | Created/Changed by: | Date: | Change Description: |
| --- | --- | --- | --- |
| 0.1 | Patrick Gross | January 30, 2006 | First published. |
| 1.0 | Patrick Gross | March 30, 2009 | Conversion from HTML to XHTML Strict. First formal version. Additions [uda1]. |
| 1.1 | Patrick Gross | July 10, 2019 | Addition of the Summary. Explanations changed, were "Not looked for yet." |