The 1954 French flap:
The index page for the 1954 French flap section of this website is here.
October 11, 1954, Machault, Seine-et-Marne:
Reference number for this case: 11-Oct-54-Machault. Thank you for including this reference number in any correspondence with me regarding this case.
Summary:
The national newspaper France-Soir for October 12, 1954, indicated that an orange disk emitting bright lights was observed at Champagne-sur-Seine in the Seine-et-Marne, by a Mr. T..., seasonal merchant in Machault, who took pictures.
The regional newspaper Le Havre for October 13, 1954, talked - same case or not - of a resident of Fontainebleau who had said he saw above Machault a circular craft emitting a bright glow, of orange color. The disc, which was about the diameter of a full moon, was moving at a slow pace, crossing the sky horizontally.
In 1958, ufologist Aimé Michel noted a case in Machault dated October 11, 1954, according to the newspapers Le Figaro, L'Aurore, Le Parisien Libéré for October 13 and 14, 1954, and Sud-Ouest and Ouest France for October 14, 1954.
Reports:
[Ref. fso1:] "FRANCE-SOIR" NEWSPAPER:

Calcined stone, grass burned under the saucer of Doncourt-Village
NANCY, October 13 ("France-soir" news brief). - At about 1:30 a.m., yesterday morning, when everything was asleep in Doncourt-Village (the Meurthe-et-Moselle), an abnormal whistling sound awoke the inhabitants of a farm, out in the country. Worried, the farmers went at the window and saw a flat object, "three times as big as a setting sun", they said, posed at the edge of the woods nearby. Soon the object rose with great speed to the vertical and disappeared. At the place indicated by the farmers, the gendarmes found that the stones had been calcined and had taken on a brick-red color on a circumference of 1 m. 50. The earth, everywhere else soaked by rain, was, within this circumference, reduced to ashes on a depth of three centimeters.
A luminous machine observed in Cameroon by credible witnesses
YAOUNDE (Cameroon), Oct. 12 ("France-soir" news brief). - An enormous illuminated disk was observed Sunday in Yaoundé by a group of trustworthy people: Colonel Cauvin, director of the health and prophylaxis services of Cameroon; Dr. Menn, chief medical officer of the hospital; MM. Dumont, Director of the Security Services; Poileux, Councilor of the Territorial Assembly; Moreau, administrator and deputy mayor of Yaoundé. It was the dog of the house who, by barking, attracted the occupants. Under the disc hung a sort of oscillating cylinder. The machine, after a few seconds, disappeared quickly towards the east.
AN ORANGE DISC emitting bright lights was observed in Champagne-sur-Seine (the Seine-et-Marne) by M. T ..., a seasonal worker in Machault, who took pictures. A butcher at Seine-Port saw at Savigny-le-Temple a similar machine, as well as in Meaux, Mr. Lefranc, a bank clerk in Paris.
AN INCANDESCENT BARREL, two meters high, was seen in a pasture by two young girls from Heimersdorf (Haut-Rhin). The craft rose and disappeared quickly.
[Ref. lhe1:] "LE HAVRE" NEWSPAPER: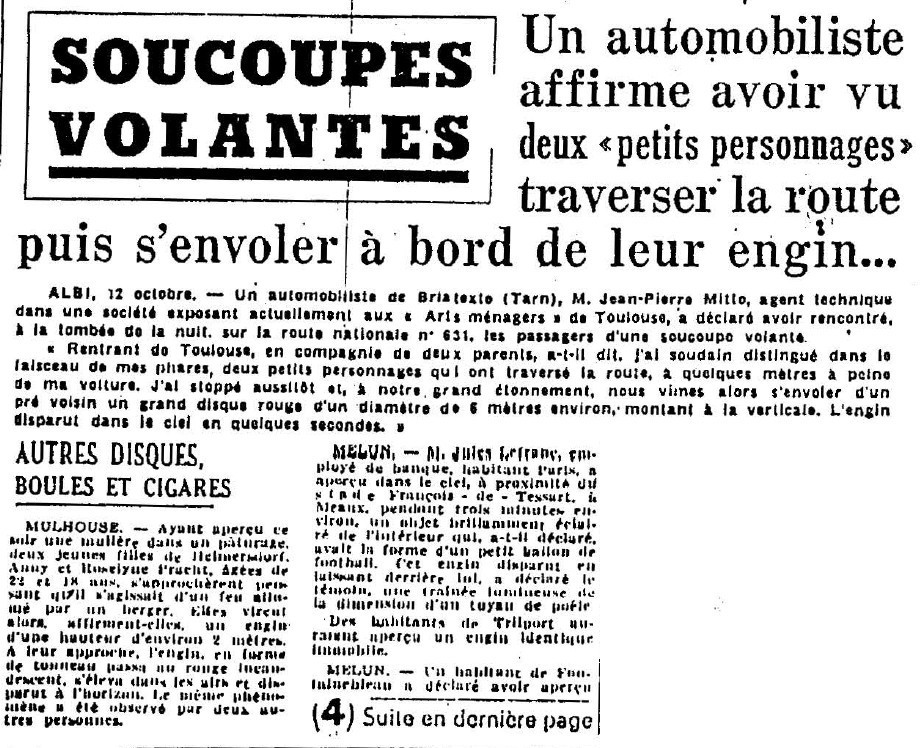 FLYING SAUCERS
A motorist said he saw two "little people" cross the road and then fly aboard their craft ...
ALBI, October 12. -- A car driver from Briatexte (Tarn), M. Jean-Pierre Mitto, technical agent in a company currently exposing at the "Household Arts" of Toulouse, said he met in the dark, on the national road No. 631, the passengers of a flying saucer.
"Returning to Toulouse, with two parents, he said, I suddenly distinguished in the beam of my headlights, two little people who crossed the road, a few meters away from my car. I stopped immediately and, to our amazement, we then saw from a nearby meadow a large red disk with a diameter of 6 meters, fly away, rising vertically. The craft disappeared into the sky in a few seconds".
OTHER DISCS, BALLS AND CIGARS
MULHOUSE. -- Having seen this evening a light in a pasture, two young girls of Heimersdorf, Anny and Roselyne Pracht aged 22 and 18, came closer thinking it was a fire lit by a shepherd. Then they saw, they claim, a craft of a height of about 2 meters. At their approach, the barrel-shaped craft turned to a glowing red, rose into the air and disappeared over the horizon. The same phenomenon was observed by two other people.
MELUN. -- Mr. Jules Lefranc, bank employee, Paris resident, saw in the sky, near the François - de - Tessart stadium in Meaux, for about three minutes, an object brightly lit from the inside that, he said, was shaped like a small soccer ball. This craft disappeared while leaving behind, the witness said, a luminous trail of the size of a stovepipe.
Residents of Trilport reportedly saw an identical craft motionless.
MELUN. -- A resident of Fontainebleau stated he saw
(4) Continued on the last page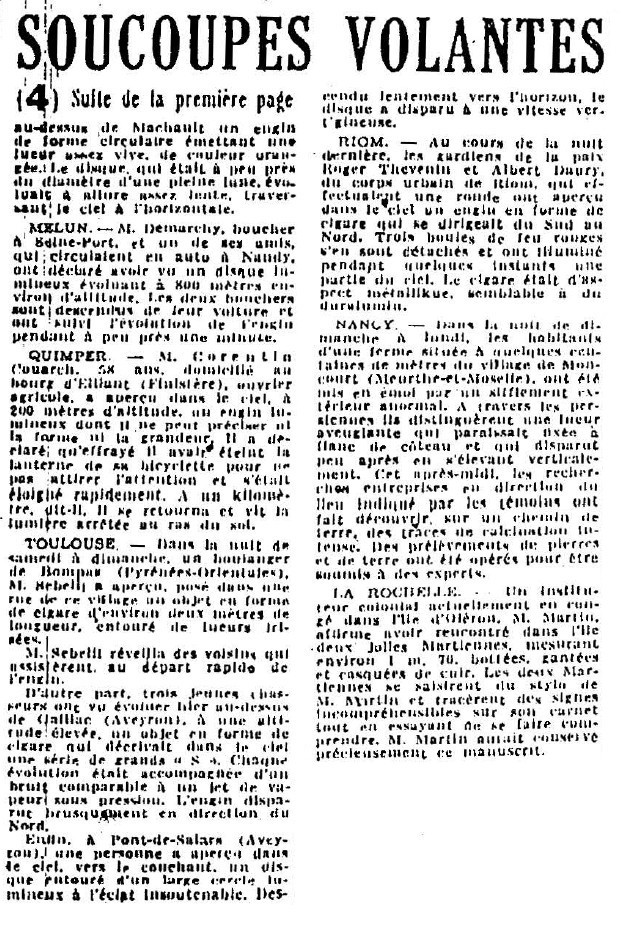 FLYING SAUCERS
(4) Continued from the first page
above Machault a circular craft emitting a fairly bright light, of orange color. The disc, which was about the diameter of a full moon, was moving at relatively slow pace, crossing the sky horizontally.
MELUN. -- Mr. Demarchy, butcher in Seine-Port, and one of his friends, who were traveling by car in Nandy, reported seeing a luminous disc flying at an altitude of about 800 meters. The two butchers left their car and followed the evolution of the craft for about a minute.
QUIMPER. -- Mr. Correntin Couarch, 58-year-old, resident of the village of Elliant (the Finistère), farm worker, saw in the sky, at 200 meters above sea level, a luminous craft which he cannot specify the shape and size. He said that, frightened, he had turned off the lantern of his bicycle to avoid attracting attention and walked away quickly. At one kilometer, he said, he looked back and saw the light stopped at ground level.
TOULOUSE. -- In the night from Saturday to Sunday, a baker Bompas (Pyrénées-Orientales), Mr. Sebelli saw, landed in a street of this village a cigar-shaped object about two feet long, surrounded by iridescent glow.
Mr. Sebelli woke up neighbors who witnessed the fast departure of the craft.
Elsewhere, three young hunters yesterday saw the moves above Gaillac (Aveyron), at high altitude, of a cigar-shaped object in the sky which followed a series of large "S". Each course was accompanied by a noise comparable to a jet of pressurized steam. The craft disappeared suddenly towards the North.
Lastly, in Pont-de-Salars (Aveyron), a person saw in the sky, toward the Couhant, a disc surrounded by a wide luminous circle of an unsustainable shine. Slowly descended toward the horizon, the disc disappeared at breakneck speed.
RIOM. -- During the last night, the police officers Roger Thévenin and Albert Daury, of the Riom urban squad, who were on patrol saw in the sky a cigar-shaped craft that was heading from South to North. Three balls of red fire detached and illuminated for a few moments a part of the sky. The cigar was of a metallic appearance, similar to duralumin.
NANCY. -- During the night from Sunday to Monday, the residents of a farm located a few hundred meters from the village of Moncourt (the Meurthe-et-Moselle), have been excited by an abnormal whistling sound outside. Through the shutters, they distinguished a blinding light that seemed set on a hillside and disappeared soon after by rising vertically. This afternoon, the research undertaken towards the place indicated by the witnesses discovered on a dirt road, traces of intense burn. Samples of rock and dirt were taken to be submitted to experts.
LA ROCHELLE. -- A colonial teacher currently on vacation in the Oléron Island, Mr. Martin, claims to have met two lovely Martian, measuring about 1 m. 70, booted, gloved and helmeted of leather. Both Martians seized Mr. Martin's pend and traced incomprehensible signs in his notebook while trying to make themselves understood. Mr. Martin reportedly carefully kept this manuscript.
[Ref. aml1:] AIME MICHEL:
Aimé Michel mentions that there was a case in Machault on October 11, 1954.
He says the case was reported in the newspapers Le Figaro, l'Aurore, le Parisien Libéré for October 13, 1954, and Sud-Ouest and Ouest-France for October 14, 1954.
He put the sighting location on a map supposed to demonstrate cases are lined up:
[Ref. jve5:] JACQUES VALLEE:
| | | | | | | | | | | | | | |
| --- | --- | --- | --- | --- | --- | --- | --- | --- | --- | --- | --- | --- | --- |
| 293 | -002.83221 | 48.45370 | 11 | 10 | 1954 | | | | MACHAULT | F | 151 | C** | 273 |
[Ref. ioi1:] "INFO-OVNI" UFOLOGY BULLETIN:
And, yet, Montbazons is perfectly in line with Meaux-Machault and Montluçon-Domérat in the map of the day of 10/11/1954 (M.o.c. p. 274).
[Ref. lcn1:] LUC CHASTAN:
Luc Chastan indicates that in the Seine and Marne in Machault on October 11, 1954 at an unknown hour, there was observation of an object in the shape of a disc.
The source is noted "M.O.C. by Michel Aimé ** Arthaud 1958."
[Ref. ubk1:] "UFO-DATENBANK":
This database recorded the case four times:
| Case Nr. | New case Nr. | Investigator | Date of observation | Zip | Place of observation | Country of observation | Hour of observation | Classification | Comments | Identification |
| --- | --- | --- | --- | --- | --- | --- | --- | --- | --- | --- |
| 19541011 | | | 11.10.1954 | | Machault | France | | | | |
| 19541011 | | | 11.10.1954 | | Machault | France | | | | |
| 19541011 | | | 11.10.1954 | | Machault | France | | | | |
| 19541011 | | | 11.10.1954 | | Machault | France | | | | |
Explanations:
On that day at that location, the Moon rose at 05:22 p.m. and disappeared at 05:52 a.m., it was a 105° and an elevation of 24° at 8 p.m.
This witness may have mistaken the moon for a saucer, he actually said it was the size of the moon. The slow horizontal movement could be the illusion of movement when the observer is moving himself in a car, for example.
Of course, as the basic data (time, direction, elevation, situation of witness) is missing, so far, this explanation cannot be proven or denied.
Keywords:
(These keywords are only to help queries and are not implying anything.)
Machault, Seine-et-Marne, object, disc, circular, orange, moon, unique, anonymous, slow
Sources:
[----] indicates sources which I have not yet checked.
[fso1] Article in the national newspaper France-Soir, Paris, France, October 12, 1954.
[lhe1] Article in the regional newspaper Le Havre, France, pages 1 and 4, October 13, 1954.
[----] Article in the national newspaper Le Figaro, Paris, France, October 13, 1954.
[----] Article in the national newspaper L'Aurore, Paris, France, October 13, 1954.
[----] Article in the national newspaper Le Parisien Libéré, Paris, France, October 13, 1954.
[----] Article in the national newspaper Le Figaro, Paris, France, October 14, 1954.
[----] Article in the national newspaper L'Aurore, Paris, France, October 14, 1954.
[----] Article in the national newspaper Le Parisien Libéré, Paris, France, October 14, 1954.
[----] Article in the national newspaper Sud-Ouest, Bordeaux, France, October 14, 1954.
[----] Article in the national newspaper Ouest-France, France, October 14, 1954.
[aml1] "Mystérieux Objets Célestes", book by Aimé Michel, Arthaud publisher, France, 1958.
[aml1] "Flying Saucers and the Straight-Line Mystery", book by Aimé Michel, English version of "Mystérieux Objets Célestes", S.G. Phillips publisher, USA, 1958.
[jve5] "Catalogue préliminaire de 500 observations", listing in "Les Phénomènes Insolites de l'Espace", book by Jacques and Janine Vallée, Table Ronde publisher, France, 1966.
[aml1] "A Propos des Soucoupes Volantes", book by Aimé Michel, reprint of "Mystérieux Objets Célestes", Planète publishers, France, 1966.
[ioi1] "Le Lapin et le Renard", article in the ufology bulletin INFO-OVNI, France, Series 1, #0, page 3, April 1975.
[aml1] "Mystérieux Objets Célestes", book by Aimé Michel, Seghers publishers, France, page 218, 1976.
[jve5] "Catalogue préliminaire de 500 observations", listing in "Les Phénomènes Insolites de l'Espace", book by Jacques and Janine Vallée, Robert Laffont publisher, France, page 250, 1978.
[lcn1] Base OVNI France website, by Luc Chastan, France, circa 2005, at baseovnifrance.free.fr/detobs.php?numobs=2484
[ubk1] Online database UFO-Datenbank, Germany, found in 2016, at ufodatenbank.de
Document history:
| Version: | Created/Changed by: | Date: | Change Description: |
| --- | --- | --- | --- |
| 1.0 | Patrick Gross | December 20, 2008 | First published. |
| 1.1 | Patrick Gross | June 28, 2010 | Addition [jve5]. |
| 1.2 | Patrick Gross | September 21, 2014 | Addition [lhe1]. Change of explanation, was "Not looked for yet." |
| 1.3 | Patrick Gross | January 4, 2017 | Additions [fso1], [ubk1]. |
| 1.4 | Patrick Gross | April 22, 2019 | Addition [ioi1], Summary. |