UFOs in the daily Press:
Jean Guérault's saucer photos, France, 1954:
The article below was published in the daily newspaper Paris-Presse, Paris, France, page 5, on November 4, 1954.
See the case file.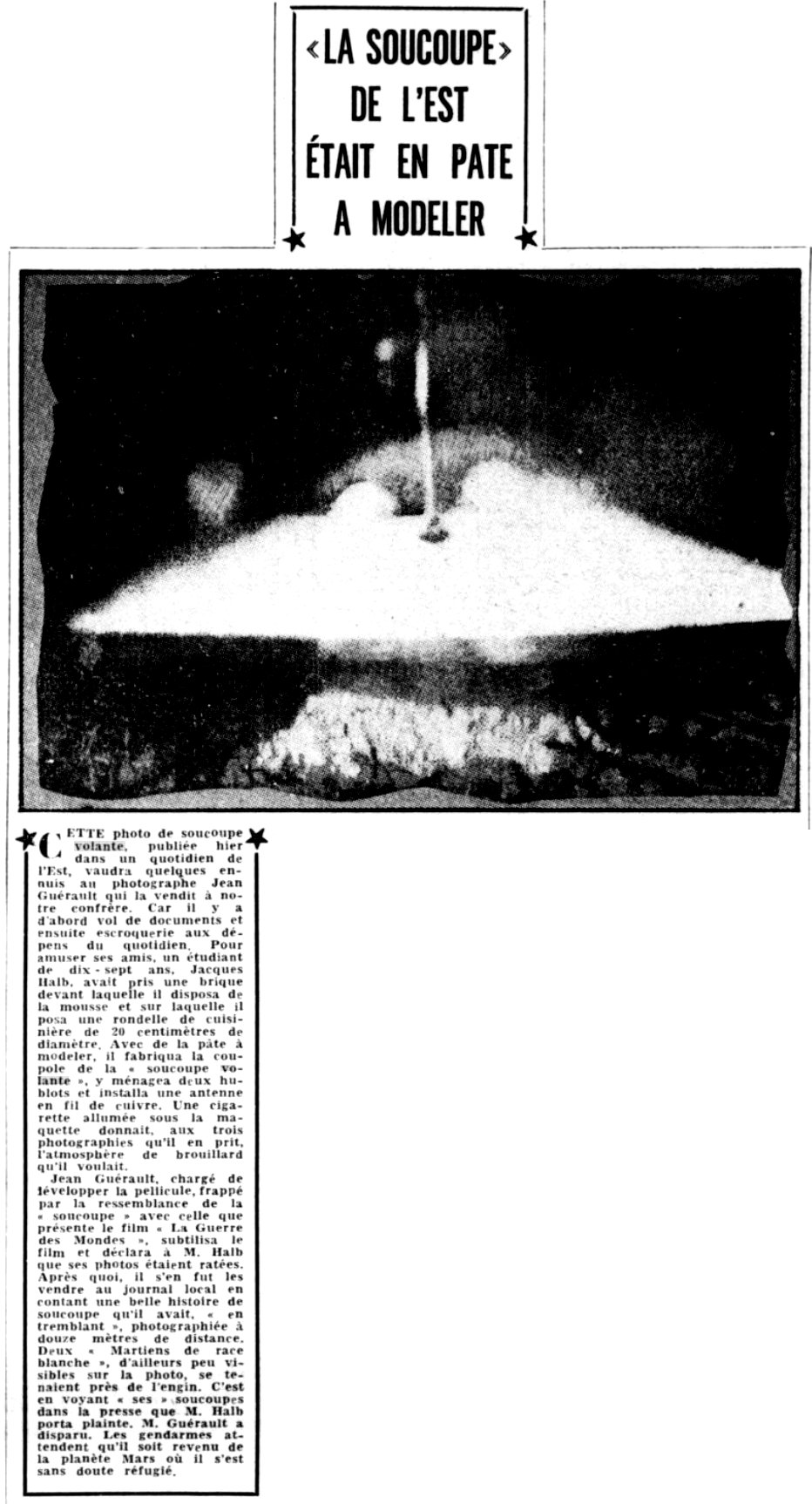 "THE SAUCER" OF THE EAST WAS MADE OF PLASTICINE
THIS photo of a flying saucer, published yesterday in an Eastern daily, will be worth some trouble to photographer Jean Gérault who sold it to our colleague. Because there is first theft of documents and then fraud at the expense of everyday life. To amuse his friends, a seventeen-year-old student, Jacques Halb, had taken a brick in front of which he placed foam and on which he placed a stove washer 20 centimeters in diameter. With plasticine, he made the dome of the "flying saucer", arranged two portholes in it and installed a copper wire antenna. A cigarette lit under the model gave the three photographs he took of it the atmosphere of fog he wanted.
Jean Guérault, in charge of developing the film, struck by the resemblance of the "saucer" with that presented by the movie "The War of the Worlds", stole the film and declared to Mr. Halb that his photos were failed. After which, he went to sell them to the local newspaper, telling a nice story of a saucer that he had, "trembling", photographed from twelve meters away. Two "caucasian Martians", who were hardly visible in the photo, were standing near the craft. It was when he saw "his" saucers in the press that Mr. Halb complained. Mr. Guérault has disappeared. The gendarmes are waiting for him to return from the planet Mars where he probably took refuge.