UFOs in the daily Press:
Cigars and balls in the Auvergne, France, 1954:
The article below was published in the daily newspaper Paris-Presse, Paris, France, page 1, on September 22, 1954.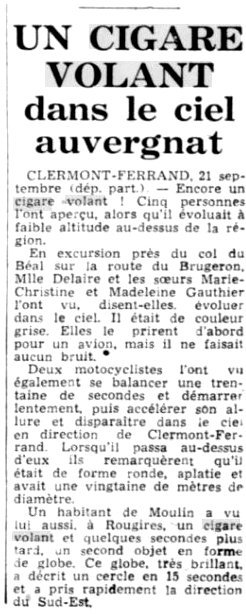 A FLYING CIGAR
in the Auvergne sky
CLERMONT-FERRAND, September 21 (part. envoy.) - Another flying cigar! Five people saw it while it was flying low over the region.
On an excursion near the Col du Béal on the road to the Brugeron, Miss Delaire and the sisters Marie-Christine and Madeleine Gauthier saw it, they say, move in the sky. It was gray in color. They first took it for a plane, but it made no noise.
Two motorcyclists also saw it swing for around thirty seconds and start slowly, then accelerate its pace and disappear in the sky towards Clermont-Ferrand. When it passed over them they noticed that it was round, flattened and about twenty meters in diameter.
A resident of Moulin also saw, in Rougires, a flying cigar and a few seconds later, a second object in the shape of a globe. This globe, very bright, flew in a circle in 15 seconds and quickly took the direction of the Southeast.