UFOs in the daily Press:
The 1954 French flap in the Press:
The article below was published in the daily newspaper Nord Littoral, Calais, France, page 1, on October 8, 1954.
See the case file.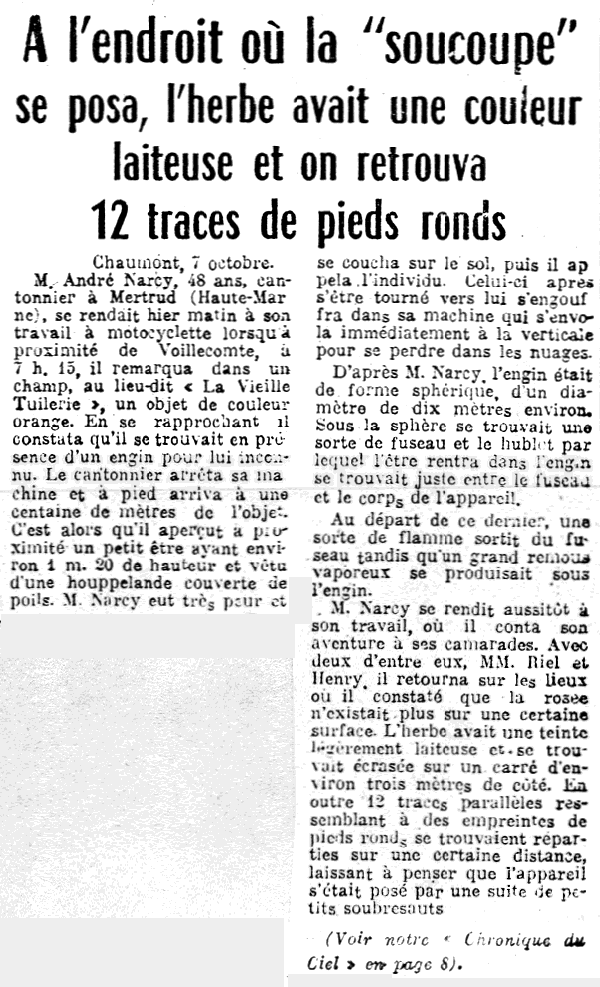 Where the "saucer"
landed,the grass had a milky color
and one found
12 traces of round feet
Chaumont, October 7.
Mr. André Narcy, 48, a roadmender in Mertrud (Haute-Marne), was driving to work yesterday morning on a motorcycle when near Voillecomte at 7:15 a.m., he noticed an orange object in a field at a place called "La Vieille Tuilerie". As he got closer, he noticed that he was in the presence of a craft unknown to him. The roadmender stopped his machine and walked about a hundred meters from the object. It was then that he saw a small being about 1.20 m tall nearby and dressed in a coat covered with hair. Mr. Narcy was very frightened and lay down on the ground, then he called the individual. This one after having turned towards him engulfed himself in his machine which flew away immediately vertically to get lost in the clouds.
According to Mr. Narcy, the object was spherical, about ten meters in diameter. Under the sphere was a kind of spindle and the porthole through which the being entered the craft was right between the spindle and the body of the craft.
At the start of the latter, a kind of flame came out of the spindle while a large vaporous eddy occurred under the apparatus.
Mr. Narcy immediately went to work, where he told his comrades of his adventure. With two of them, MM. Riel and Henry, he returned to the place, where he noticed that the dew no longer existed on a certain surface. The grass had a slightly milky hue and was crushed on a square about three meters aside. In addition, 12 parallel tracks resembling footprints of round feet were distributed over a certain distance, suggesting that the craft had landed by a series of small jolts.