UFOs in the daily Press:
The 1954 French flap in the Press:
The article below was published in the daily newspaper Nord Littoral, Calais, France, page 8, on October 6, 1954.
See the case file.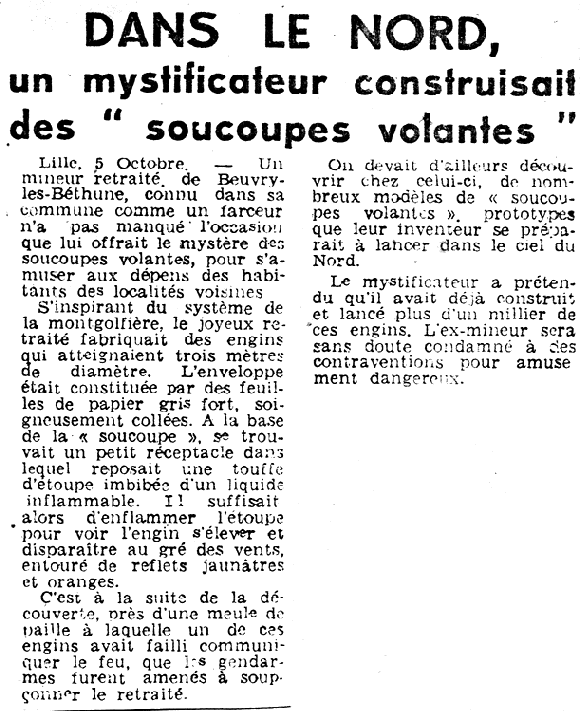 IN THE NORD,
a hoaxer was building
"flying saucers"
Lille, October 5. -- A retired miner from Beuvry-les-Béthune, known in his commune as a joker, did not miss the opportunity offered to him by the mystery of flying saucers, to have fun at the expense of the inhabitants of neighboring localities.
Inspired by the hot air balloon system, the happy retiree made machines that reached three meters in diameter. The envelope consisted of sheets of strong gray paper, carefully glued. At the base of the "saucer" was a small receptacle in which rested a tuft of tow soaked in a flammable liquid. It was enough to ignite the tow to see the machine rise and disappear with the winds surrounded by yellowish and orange reflections.
It was following the discovery near a haystack to which one of these machines had almost set fire that the gendarmes were led to suspect the pensioner.
At his home were discovered many models of "flying saucers", prototypes that their inventor was preparing to launch in the northern sky.
The hoaxer claimed that he had already built and launched more than a thousand of these devices. The former miner will no doubt be sentenced to fines for dangerous amusement.