UFOs in the daily Press:
The 1954 French flap in the Press:
The article below was published in the daily newspaper Nord Littoral, Calais, France, page 8, on October 31, 1954.
See the case file.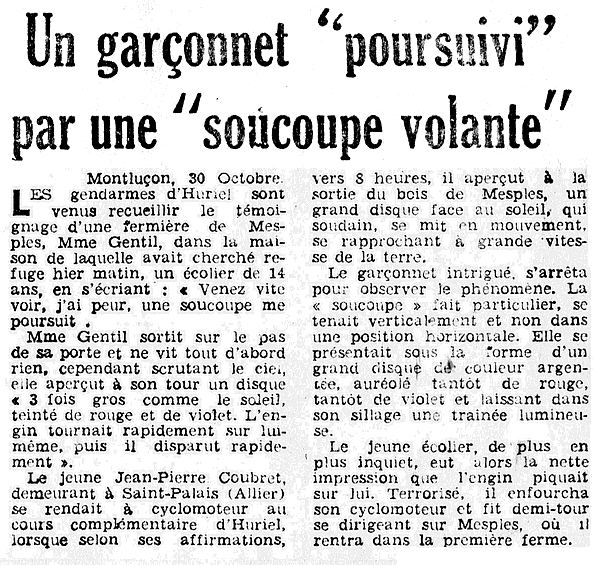 A young boy "chased"
by a "flying saucer"
Montluçon, October 30. The gendarmes of Huriel came to collect the testimony of a Mesples farmer, Mrs. Gentil, in the house in which a 14-year-old schoolboy had sought refuge, exclaiming: "Come quickly to see, I am afraid, a saucer pursues me.
Madame Gentil left the door and saw nothing at first. However, scanning the sky, she saw in her turn a disc "3 times as big as the sun", tinged with red and purple. The object spun quickly on its own, then it quickly disappeared."
The young Jean-Pierre Coubret, living in Saint-Palais (Allier), was riding a moped to go the complementary course of Huriel, when, according to his assertions, around 8 a.m., he saw at the exit of the town a large disc opposite the sun which suddenly set in motion, approaching the earth at high speed.
The intrigued young boy stopped to observe the phenomenon. The "saucer" particularly stood vertically and not in a horizontal position. It appeared in the form of a large disc of silver color, haloed sometimes in red, sometimes in purple and leaving in its wake a luminous trail.
The young schoolboy, more and more worried, then had the clear impression that the object was diving on him. Terrorized, he got on his moped and turned around, heading for Mesples, where he entered the first farm.