UFOs in the daily Press:
The 1954 French flap in the Press:
The article below was published in the daily newspaper Nord Littoral, Calais, France, page 1, on October 23, 1954.
See the case file.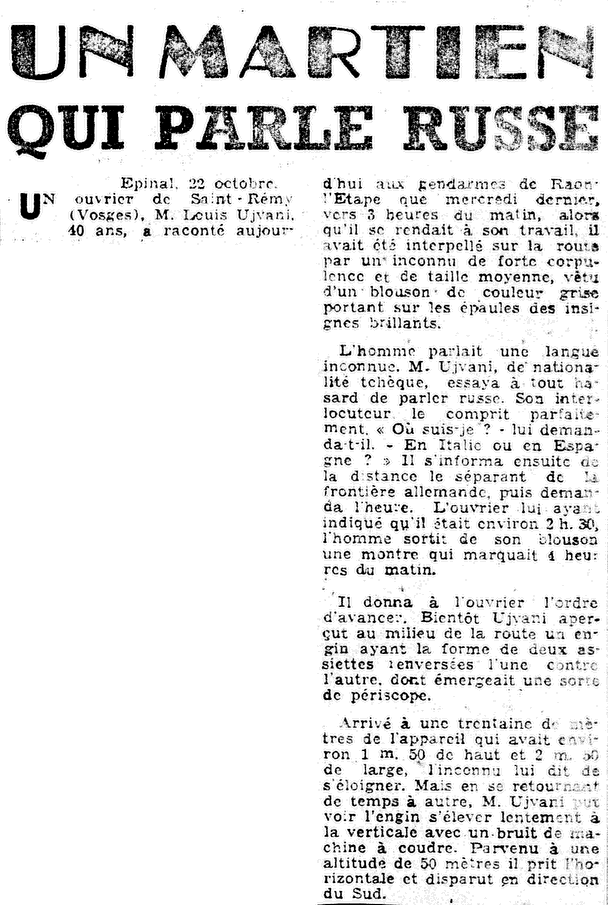 A MARTIAN
WHO SPEAKS RUSSIAN
Epinal, October 22.
A worker from Saint-Rémy (Vosges), Mr. Louis Ujvani [sic], 40 years old, told the gendarmes of Raon-l'Etape that last Wednesday, around 3 a.m. on his way to work, he was stopped on the road by a tall, medium-sized stranger dressed in a gray jacket with shiny badges on his shoulders.
The man spoke an unknown language. Mr. Ujvani, a Czech national, tried to speak Russian by chance. His interlocutor understood this perfectly. "Where am I? - he asked him - in Italy or in Spain? They he inquired about the distance from the German border, then asked for the time. The worker having indicated to him that it was approximately 2:30 a.m., the man pulled out of his jacket a watch that marked 4 o'clock in the morning.
He ordered the worker to move on. Soon Ujvani glimpsed in the middle of the road, a craft in the shape of two plates overturned one against the other, from which emerged a kid of periscope.
Arrived about thirty meters from the craft which was about 1.50 m. high and 2.50 m. wide, the stranger told him to move away. But looking back from time to time, Mr. Ujvani saw the apparatus slowly rise vertically with the sound of a sewing machine. Reaching an altitude of 50 meters it took the horizontal and disappeared towards the south.