UFOs in the daily Press:
The 1954 French flap in the Press:
The article below was published in the daily newspaper Nord-Eclair, France, page 2, October 1, 1954.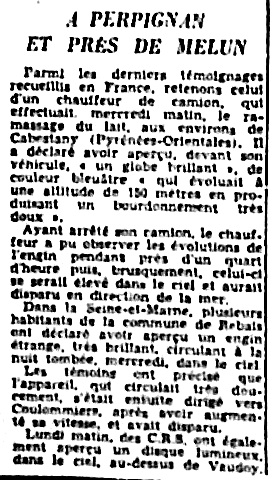 IN PERPIGNAN
AND NEAR MELUN
Among the latest testimonies collected in France, let us remember that of a truck driver, who carried out, on Wednesday morning, the collection of milk around Cabestany (Pyrénées-Orientales). He said he saw, in front of his vehicle, "a shining globe", bluish in color "which was moving at an altitude of 150 meters, producing a very soft hum."
Having stopped his truck, the driver was able to observe the movements of the craft for nearly a quarter of an hour then, suddenly, it reportedly rose in the sky and disappeared towards the sea.
In the Seine-et-Marne, several residents of the town of Rebais stated they saw a strange, very bright machine circulating at nightfall, Wednesday, in the sky.
The witnesses specified that the craft, which flew very slowly, then headed towards Coulommiers, after increasing its speed, and disappeared.
On Monday morning, C.R.S. personal also saw a luminous disc in the sky above Vaudoy.