UFOs in the daily Press:
Roswell explained, prank in California, USa, July 1947:
The article below was published in the newspaper News-Journal, Mansfield, Ohio, USA, page 1, on July 9, 1947.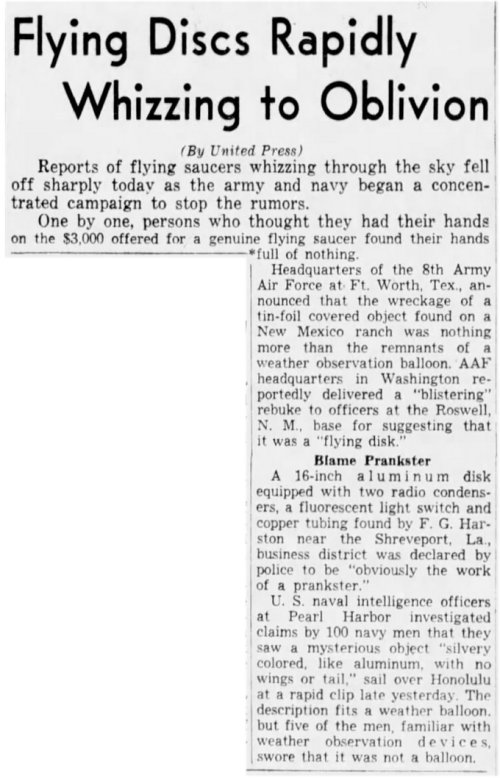 Flying Discs Rapidly Whizzing to Oblivion
(By United Press)
Reports of flying discs whizzing through the sky fell off sharply today as the army and navy began a concentrated campaign to stop the rumors.
One by one, persons who thought they had their hands on the $3000 offered for a genuine flying saucer found their hands full of nothing.
Headquarters of the 8th Army Air Force at Ft. Worth, Tex., announced that the wreckage of a tin-foil covered object found on a New Mexico ranch was nothing more than remnants of a weather observation balloon. AAF headquarters in Washington reportedly delivered a "blistering" rebuke to officers at the Roswell N. M. base for suggesting that it was a "flying disk."
Blame Prankster
A 16-inch aluminum disc equipped with two radio condensers, a fluorescent light switch and copper tubing found by F. G. Harston near the Shreveport, La, business district was declared by police to be "obviously the work of a prankster."
U. S. naval intelligence officers at Pearl Harbor investigated claims by 100 navy men that they saw a mysterious object "silvery colored, like aluminum, with no wings or tail," sail over Honolulu at a rapid clip late yesterday. The description fits a weather balloon, but five of the men, familiar with weather observation devices, swore it was not a balloon.