UFOs in the daily Press:
The 1954 French flap in the Press:
The article below was published in the daily newspaper L'Oise-Matin, Beauvais, France, page 10, on November 2. 1954.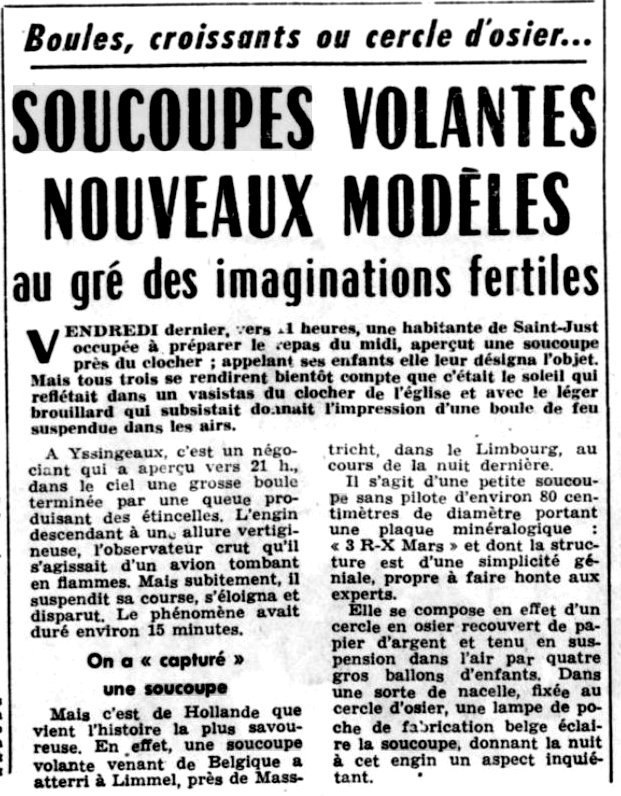 Balls, crescent or wickerwork circle...
FLYING SAUCERS
NEW MODEL
according to fertile imaginations
Last Friday, around 11 a.m., a resident of Saint-Just busy preparing the midday meal, saw a saucer near the bell tower; calling her children she pointed to the object. But all three soon realized that it was the sun reflecting in a skylight of the church steeple and with the light fog that remained gave the impression of a fireball suspended in the air.
In Yssingeaux, a merchant saw around 9 p.m., in the sky a large ball ending in a tail producing sparks. The craft descending at a dizzying pace, the observer believed that it was a plane falling in flames. But suddenly, it stopped its course, moved away and disappeared. The phenomenon lasted about 15 minutes.
A saucer
"captured"
But Holland is where the tastiest story comes from. Indeed, a flying saucer from Belgium landed in Limmel, near Masstricht [sic, Maastricht], in Limburg, during the last night.
This is a small unmanned saucer of about 80 centimeters in diameter bearing a number plate: "3 RX Mars" and whose structure is brilliantly simple, such as to shame experts.
It actually consists of a wicker circle covered with silver paper and held in suspension in the air by four large toy balloons. In a kind of basket, fixed to the wicker hoop, a Belgian-made flashlight illuminates the saucer, giving this craft a disturbing appearance at night.