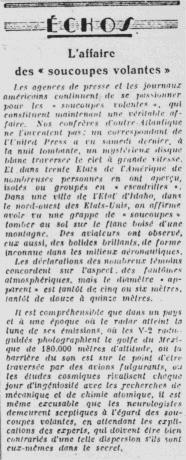 ECHOES
The affair of the "flying saucers"
The American news services and newspapers continue to be impassioned for the "flying saucers", which constitute a true affair now. Our colleagues on the other side of the Atlantic do not invent it: a United Press correspondent saw last Saturday, at the fall of night, a mysterious white disc crossing the sky at high speed. And in thirty States of America numerous people saw some, insulated or grouped in "squadrons." In a city of the State of Idaho, in the North-West of the United States, one claims to have seen a bunch of "saucers" fall on the ground on the wooded side of a mountain. Aviators observed, too, the brilliant bolides, of a shape unknown in the aeronautical circles.
The statements of the many witnesses agree on the appearance of the atmospheric phantoms, but the "apparent" diameter is sometimes five or six meters, sometimes from twelve to fifteen meters.
It is understandable that in a country and at a time when radar reaches the moon by its emissions, where radiocontrolled V-2 photograph Gulf of Mexico from an altitude of 180.000 meters, where the sound barrier is on the point to be crossed by fulgurating airplanes, where cosmic studies compete each day in ingeniousness with research in mechanics and atomic chemistry, it is even excusable that neurologists remain skeptics with regard of the flying saucers, while waiting for the explanations of the experts, who must be well upset at such a dispersion if they are themselves in the secrecy.