UFOs in the daily Press:
The 1954 French flap in the Press:
This article was published in the daily newspaper Le Méridional, France, page 6, on October 4, 1954.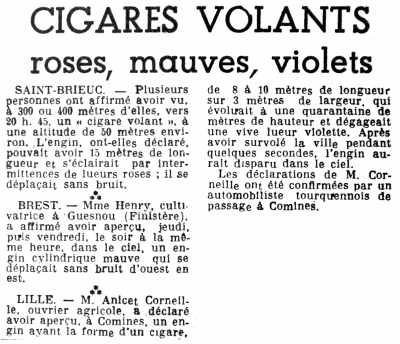 FLYING CIGARS
pink, magenta, purple
SAINT-BRIEUC. -- Several people claimed to have seen, at 300 or 400 meters of them, around 08:45 p.m., a "flying cigar", at an altitude of 50 meters approximately. The craft, they stated, could have been of 15 meters in length and it was lit by intermitences of pink gleams; it moved without noise.
BREST. -- Mrs. Henry, farmer in Guesnou (the Finistère), claimed to have seen, Thursday, then Friday, in the evening at the same hour, in the sky, a violet cylindrical machine which moved without noise from the west to the east.
LILLE. -- Mr. Anicet Corneille, farm labourer, stated to have seen, in Comines, a machine having the shape of a cigar, from 8 to 10 meters in length by 3 meters of width, which evolved wat some forty meters height and released a magenta gleam. After having flown over the city during a few seconds, the machine would have disappeared in the sky.
The statements of Mr. Corneille were confirmed by a motorist of Tourcoing who was passing.