UFOs in the daily Press:
UFO in Africa, 1952:
This article was published in the daily newspaperLe Méridional, France, page 1, on June 21, 1952.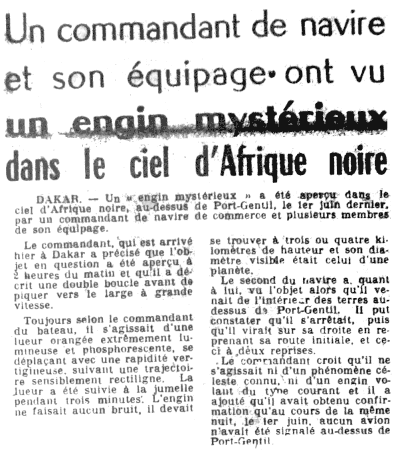 A ship commander and his crew saw a mysterious machine in the sky of Black Africa
Dakar. -- A mysterious craft was seen in the sky of Black Africa, above Port-Gentil, last June 1st, by a commander of a merchant ship and several members of his crew.
The commander, who arrived yesterday in Dakar, specified that the object in question was seen at 2 o'clock in the morning and that it described a double loop before diving towards the ocean at high speed.
Still according to the commander of the boat, it was a great and extremely luminous and phosphorescent orange gleam, moving at a vertiginous speed, following an appreciably rectilinear trajectory. The gleam was followed with the binocular during three minutes. The craft did not make any noise, it was to be at three or four kilometers altitude and its visible diameter was that of a planet.
The second of the ship has as for him seen the object whereas it came from the interior of the land above Port-Gentil. He could note that it stopped, then that he veered on its right taking again his initial path, and it did this twice.
The commander believes that it was neither a known celestial phenomenon, nor a flying machine of the current type, and he added that he had obtained confirmation that during the same night, June 1st, no plane had been announced above Port-Gentil.