UFOs in the daily Press:
The 1954 French flap in the Press:
The article below was published in the daily newspaper Le Journal du Pas-de-Calais et de la Somme, France, page 1, on October 7, 1954.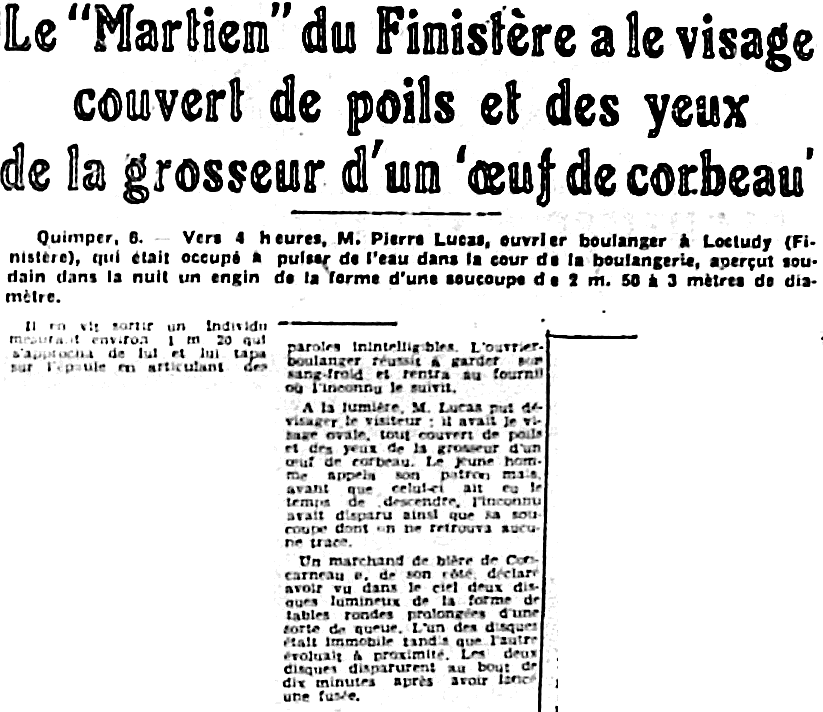 The "Martian" of the Finistère has the face
covered with hair and eyes
the size of a 'crow's egg'
Quimper, 8. -- Around 4 a.m., Mr. Pierre Lucas, a baker in Loctudy (Finistère), who was busy fetching water from the bakery courtyard, suddenly saw a craft in the shape of a saucer 2.50 meters to 3 meters in diameter.
He saw an individual about 1.20 m tall come out of it, who approached him and tapped him on the shoulder, articulating unintelligible words. The worker baker managed to keep his cool and went back to the bakery where the stranger followed him.
In the light, Mr. Lucas was able to stare at the visitor: his face was oval, all covered with hair and eyes the size of a crow's egg. The young man called his boss, but before he had time to come down, the stranger had disappeared, as had his saucer, of which no trace was found.
On his side, A Concarneau beer merchant said that he saw two luminous discs in the sky in the shape of round tables extended of a kind of tail. One of the disks was stationary while the other was moving nearby. The two discs disappeared after ten minutes after launching a rocket.