UFOs in the daily Press:
The 1954 saucer flap in the Press:
The article below was published in the daily newspaper Le Courrier Picard, France, page 1, on October 25, 1954.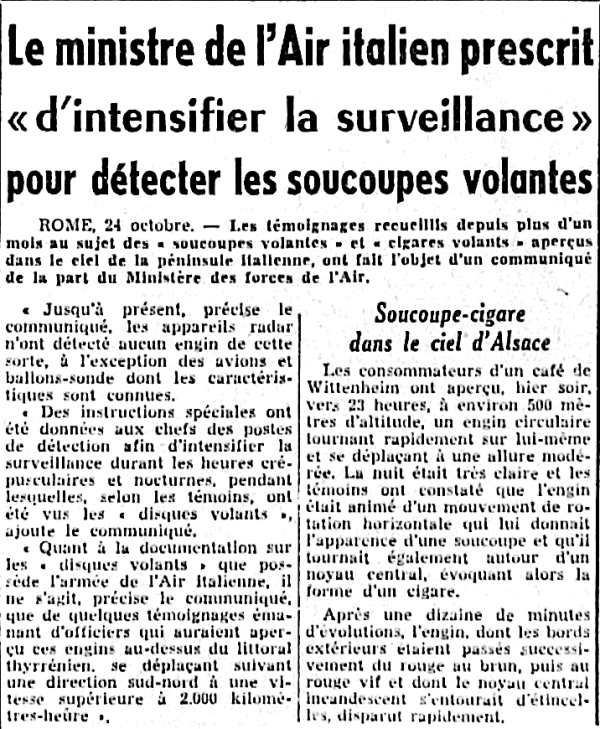 The Italian Minister of Air prescribes
"to intensify surveillance"
to detect flying saucers
ROME, October 24. - The testimonies collected for more than a month about the "flying saucers" and "flying cigars" seen in the sky of the Italian peninsula were the subject of a press release from the Ministry of the Air Forces.
"So far, the statement said, radar sets detected no such craft, with the exception of planes and sounding balloons, the characteristics of which are known.
"Special instructions have been given to the heads of the detection stations to intensify surveillance during the twilight and night hours, during which, according to witnesses, the "flying disks" were seen, the statement added.
As for the documentation on the "flying discs" that the Italian Air Force has, it is only, specifies the press release, some testimonies emanating from officer who reportedly saw these craft above of the Thyrrenian coast, moving in a south-north direction at a speed greater than 2,000 km/hour."
Cigar-saucer in the sky of Alsace
Consumers of a coffee shop in Wittenheim saw, yesterday evening, around 11 p.m., at around 500 meters of altitude, a circular craft rotating rapidly on itself and moving at a moderate pace. The night was very clear and the witnesses noted that the craft was animated by a horizontal rotation movement which gave it the appearance of a saucer and that it also revolved around a central nucleus, evoking then the shape a cigar.
After ten minutes of moves, the craft, whose outer edges had passed successively from red to brown, then to bright red and whose glowing central nucleus surrounded itself with sparks, quickly disappeared.