UFOs in the daily Press:
The 1954 French flap in the Press:
The article below was published in the daily newspaper La Croix du Nord, Lille local issue, Pas-de-Calais, France, page 6, October 3, 1954.
See the case file.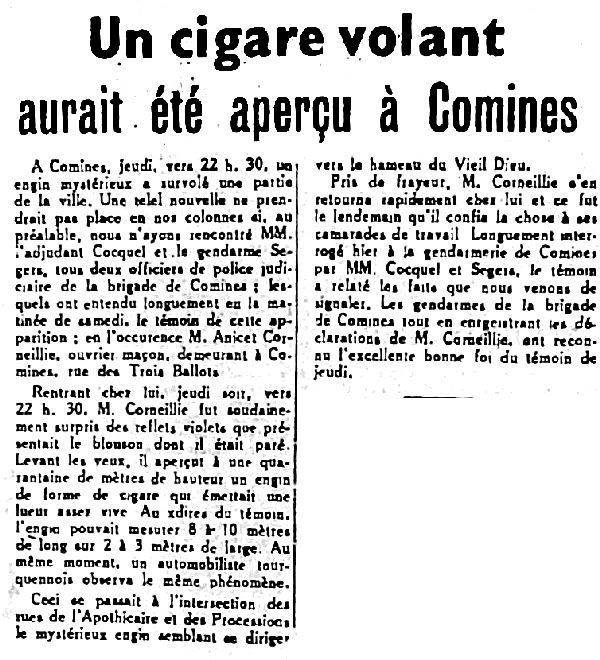 A flying cigar
reportedly seen in Comines
In Comines, Thursday, around 10:30 p.m., a mysterious craft flew over a part of the city. Such news would not take place in our columns if, beforehand, we had not met MM. Warrant Officer Cocquel and Constable Segers, both judicial police officers from the Comines brigade; who heard at length in the morning of Saturday, the witness of this apparition; in this case Mr. Anicet Corneillie, mason worker, living in Comines, rue des Trois Ballots.
Coming home, Thursday evening, around 10:30 p.m., Mr. Corneillie was suddenly surprised at the violet reflections of the jacket with which he was adorned. Looking up, he saw a cigar-shaped object about forty meters high that emitted a rather bright glow. According to the witness, the craft might have been 8 to 10 meters long and 2 to 3 meters wide. At the same time, a motorist from Tourcoing observed the same phenomenon.
This was happening at the intersection of the streets of the Apothicaire and the Processions, the mysterious craft seeming to be heading towards the hamlet of Le Vieil Dieu.
Frightened, Mr. Corneillie quickly returned home and it was the next day that he entrusted the matter to his comrades. Long questioned yesterday at the Comines gendarmerie by MM. Cocquel and Segers, the witness related the facts that we just reported. The gendarmes of the Comines brigade, while recording these statements by Mr. Corneillie, acknowledged the excellent good faith of the witness on Thursday.