UFOs in the daily Press:
The 1954 French flap in the Press:
The article below was published in the daily newspaper La Bourgogne Républicaine, Dijon, France, page 1, on November 4, 1954.
See thecase file.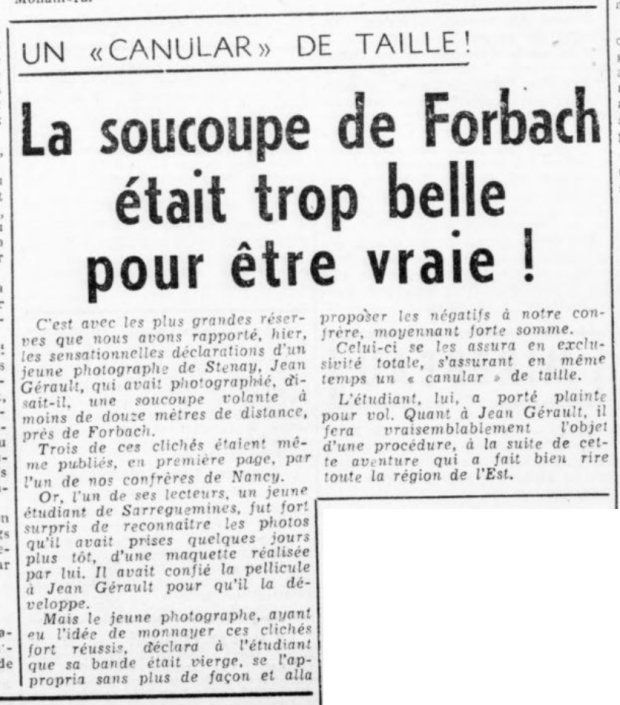 A BIG "HOAX"!
The Forbach saucer
was too good
to be true!
It is with the greatest caution that we reported yesterday the sensational statements of a young photographer from Stenay, Jean Gérault, who had photographed, he said, a flying saucer less than 12 meters away, near Forbach.
Three of his photos were even published, on the first page, by one of our colleagues from Nancy.
However, one of their readers, a young student from Sarreguemines, was very surprised to recognize the photos he had taken a few days earlier of a model made by him. He had entrusted the film to Jean Girault to develop it.
But the young photographer, having had the idea of monetizing these very successful pictures, told the student that his film was blank, appropriated it without further ado and went to offer the negatives to our colleague newspaper, against big bucks.
The latter ensured total exclusivity, ensuring at the same time a big "hoax."
The student filed a theft complaint. As for Jean Gérault, he will probably be prosecuted, following this adventure which made the whole Eastern region laugh.