UFOs in the daily Press:
The 1954 French flap in the Press:
The article below was published in the daily newspaper La Bourgogne Républicaine, Dijon, France, page 4, on July 13, 1954.
See the case file.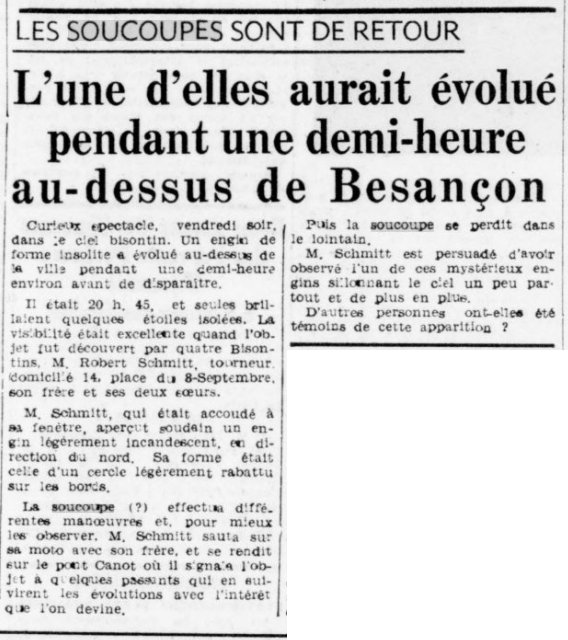 THE SAUCERS ARE BACK
One of them reportedly moved
for half an hour
above Besançon
Odd display, Friday evening, in the skies of Besançon. An unusually-shaped craft moved over the city for about half an hour before disappearing.
It was 8:45 p.m., and only a few isolated stars shone. The visibility was excellent when the object was discovered by four residents of the city, Mr. Robert Schmitt, a turner domiciled at 14, place du 8-Septembre, his brother and his two sisters.
Mr. Schmitt, who was leaning on his window, suddenly saw a slightly incandescent craft, heading north. Its shape was that of a circle slightly folded at the edges.
The saucer (?) carried out various maneuvers and, to better observe them, Mr. Schmitt jumped on his motorbike with his brother, and went to the Canot bridge where he pointed out the object to a few passers-by who followed its maneuvers with the interest that we can guess.
Then the saucer got lost in the distance.
Mr. Schmitt is convinced that he has observed one of these mysterious craft crisscrossing the sky more and more everywhere.
Did other people witness this apparition?