UFOs in the daily Press:
The Maurice Masse sighting in the US Press, France, 1965:
This article was published in the daily newspaper Journal-American, USA, on July 4, 1965.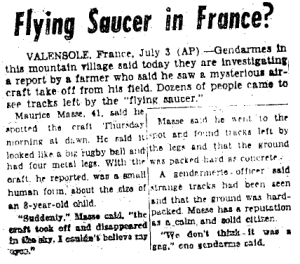 Flying Saucer in France?
VALENSOLE, France, July 3 (AP). -- Gendarmes in this mountain village said today they are investigating a report by a farmer who said he saw a mysterious aircraft take off from his field. Dozens of people came to see tracks left by the "flying saucer."
Maurice Masse, 41, said he spotted the craft Thursday morning at dawn. He said it looked like a big rugby ball and had four metal legs [sic. 6 legs and a central pivit]. With the craft, he reported, was a small human form, about the size of an 8-year-old child.
"Suddenly, Masse said, "the craft took off and disappeared in the sky. I couldn't believe my eyes."
Masse said he went to the spot and found tracks left by the legs and that the ground was packed hard as concrete.
A gendarmerie officer said strange tracks had been seen and that the ground was hard-packed. Masse has a reputation as a calm and solid citizen.
"We don't think it was a gag", one gendarme said.