UFOs in the daily Press:
Wave of cattle mutilations in Argentina, July 2002:
This article was published in the newspaper El Comercial, Argentina, on Sunday, July 28, 2002.
BETWEEN BARTOLOME DE LAS CASAS AND FONTANA

Five Cows Mutilated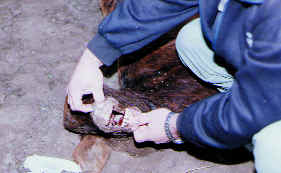 Four mutilated cows were found again some 12 km southwest of Bartolome de las Casas, having the same characteristics as earlier cases. Two were found on Wednesday and two more on Thursday at a field owned by Ariel "Papin" Suarez.
The fifth animal was found yesterday in Estanislao del Campo: the victim was a cow belonging to Victor Andres Roldan in the Ranero Cué pasture field, some 10 km. distant from the town, having all of the characteristics indicate, such as "mutilation," "cauterization" and "millimetric incisions." Fourteen "unofficial" reports were received in the Fontana and Bartolome de las Casas region; reports include a young horse, a buffalo and 12 bovines. A more extensive report will appear tomorrow.
Translation © 2002. Scott Corrales, Institute of Hispanic Ufology. Special thanks to Alicia Rossi.