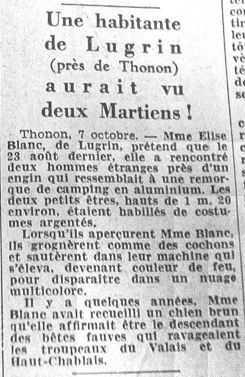 A resident
of Lugrin
(near Thonon)
claimed to have seen
two martians!
Thonon, October 7 -. Mrs. Elise Blanc, of Lugrin, claims that on last 23 august, she met two strange men close to a machine which resembled a camp-site trailer of aluminium. The two small beings, tall of 1 m 20 approximately, were equipped in silvery suits.
When they saw Mrs. Blanc, they grunted like pigs and jumped in their machine, which rose, taking a fiery color, to disappear in a multicoloured cloud.
A few years ago, Mrs. Blanc had adopted a brown dog which she claimed to be descendant of the wild beasts which devastated the herds of the valais and the Haut-Chablais.