UFOs in the daily Press:
Saucer fun, 1954:
The article below was published in the daily newspaper The Baltimore Evening Sun, Baltimore, Maryland, USA, page 4, November 20, 1954.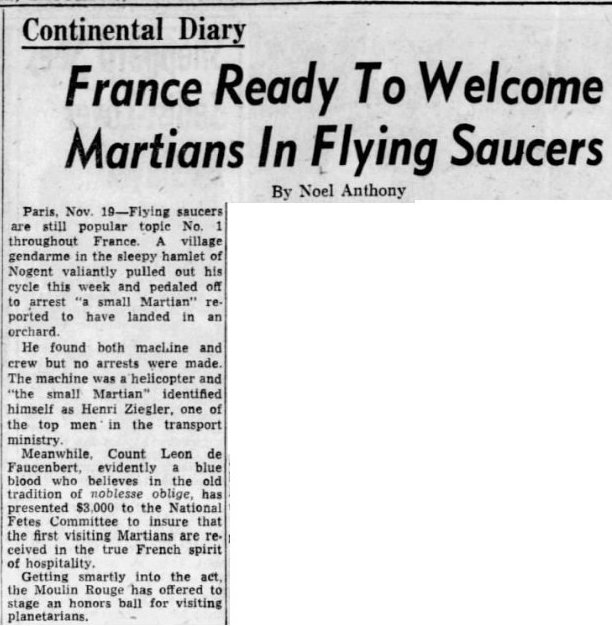 Continental Diary
France Ready To Welcome Martians in Flying Saucers
Paris, Nov. 19 -- Flying saucers are still popular topic No. 1 throughout France. A village gendarme in the sleepy hamlet of Nogent valliantly pulled out his cycle last week and pedaled off to arrest "a small Martian" reported to have landed in an orchard.
He found both machine and crew but no arrest was made. The machine was a helciopter and "the small MArtian" identified himself as Henri Ziegler, one of the top men in transport ministry.
Meanwhile, Count Leon de Faucenbert, evidently a blue blood who believes in the old tradition of noblesse oblige, has presented $3.000 to the National Fetes Committee to ensure that the first visiting Martians are received in true French spirit of hospitality.
Getting smartly into the act, the Moulin Rouge has offered to stage an honors ball for visiting planetariums.