UFOs in the daily Press:
Martians, 1947:
The article below was published in the daily newspaper The Age, Melbourne, Victoria, Australia, page 1, on June 24, 1947.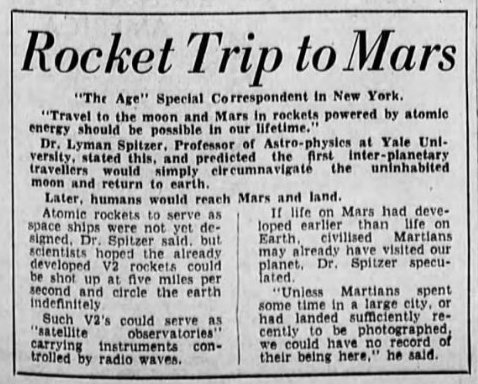 Rocket Trip to Mars
"The Age" Special Correspondent in New York.
"Travel to the Moon and Mars in rockets powered by atomic energy should be possible in our lifetime."
Dr. Lyman Spitzer, Professor of Astro-Physics at Yale University, stated this, and predicted the first inter-planetary travelers would simply circumnavigate the uninhabited moon and return to earth.
Later, humans would reach Mars and land.
Atomic rockets to serve as space ships were not yet designed, Dr. Spitzer said, but scientists hoped the already developed V2 rockets could be shot up at five miles per second and circle the earth undefinitely.
Such V2's could serve as "satellite observatories" carrying instruments controlled by radio waves.
If life on Mars developed earlier than life on Earth, civilized Martians may already have visited our planet, Dr. Spitzer speculated.
"Unless Martians spent some time in a large city, or had landed sufficiently recently to be photographed, we could have no record of their being here," he said.
Comment:
See? We are so often told that space visitors were not considered when the "first flying saucers" appeared in the Press in 1947. But they were. And this is on the very day of Kenneth Arnold's sighting, June 24, 1947.
We are so often told that the space visitors explanation for flying saucers appeared with Maj. Donald Keyhoe in the early 1950's. Not true. And Lyman Spitzer was not a "ufologist" or a "conspirationist", but a famous astrophysicist. The idea of space visitors does not even need "flying saucers" to be spotted, it is a logical idea. Of course there were no Martians; but they must be out there, and must be visiting, and yes, we would not necessarily be immediately aware that they do. Spitzer understood even that.
About Lyman Spitzer:
Lyman Spitzer (1914 - 1997) was an American astrophysician, who authored more than 240 science papers, including 155 as main author, and 128 in peer-reviewed professional science journals.
He was the first to envision a space telescope, and participated in the Hubble space telescope project. His name was given to the Spitzer space telescope in 2003, and to the Spitzer asteroid.
To: Kenneth Arnold or Newspapers 1940-1949.