The Yungay photographs, Peru, 1967:
Augusto Arranda was trekking in 1967 in the mountains near Yungay, located at about 3.000 meters (10.000 feet) in the Huaylas Valley of north-central Peru. He had a camera with him, that he had borrowed from his friend Cesar Ore, a tourist office operator in Yungay.
The exact circumstances of the picture shot were never known, as the photographs surfaced by mere accident: there was never any attempt at publication by Augusto Armanda nor Cesar Ore, as it was a Kodak employee who sent one printout to ufologist Richard Greenwell of the APRO ufology group.
APRO managed to get the printout of one photograph at first. They investigated to trace back its origin, and this they found thatthe employee of the Kodak Peruana S.A. processing laboratory had made copies of the photos at the time they were being developed, which as a violation of company rules.
Unfortunately, Kodak managers confiscated the photo from their employee before APRO could get to him, and they refused to show it. Ultimately APRO obtained them anyway in 1969 from Eastman Kodak's International Markets Division in Rochester, New York. But there were no records available at Kodak to trace the photo to their original source.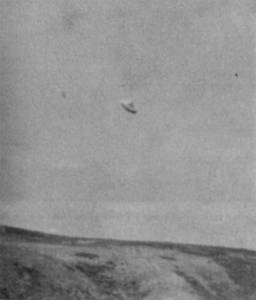 Photo #1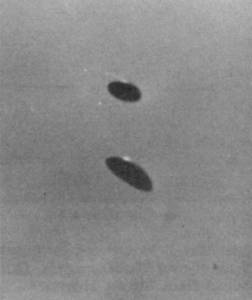 Photo #2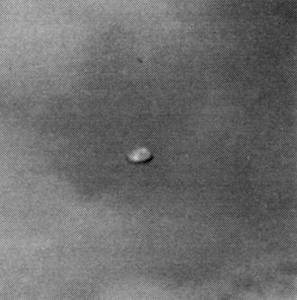 Photo #3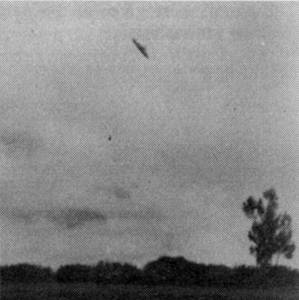 Photo #4
Later, APRO learned the Peruvian Ministry of the Navy that the location where they had been taken was Yungay, and that there was a set of four photographs. APRO went there and managed to get copies of the 3 missing photos being retained by Kodak Peruana S.A. via Cesar Ore: Augusto Arranda had mailed him copies from a post office in Lima, the capital.
However, although the existence of Augusto Arranda and that he was the photographer was proved, APRO never managed to locate him and get any more information. One factor that hindered the investigation was the terrible earthquake; which destructed the city of Yungay and caused more than 70.000 death.
Original prints exist in the United States, several scientists have examined them but they have not been subjected to a comprehensive analysis, as the negatives and the ocular witness are missing.