UFO Stupidities:
On the sex of the flying dolphins:
I have been looking in the "UFO skeptics" literature and found this:
In an excellent source book by Ms. Margaret Sachs, The UFO Encyclopedia, there is a picture of an "Alleged UFO photographed in Cocoyoc, Mexico, on November 3, 1973." There is nothing around this "UFO" to assist in an analysis to identify it or disprove the "UFO" and when I first saw this photograph I laughed at how amazing it is that it has, apparently, for so long remained unidentified.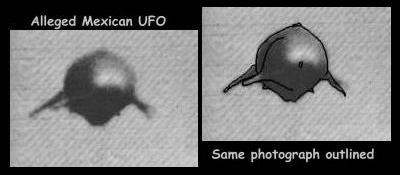 I think any marine biologist would have recognized the "UFO" immediately since it is really an "ISO" - an Identifiable Swiming Object. I have spent many hours in front of tanks at the local Pittsburgh Zoo experimenting with communication between human beings and dolphins and I immediately and with complete certainty identified the "UFO" as a dolphin swimming towards the camera - an object surrounded by water and not air. The side fins are unmistakable, the tail fin barely visible, the dorsal fin almost entirely hidden by the curvature of the body, although I have seen dolphins in captivity with curved and badly damaged dorsal fins. The one streak of light on this otherwise dark blob shows the curvature of the head, the snout to one side. I think I can even identify it as a female dolphin, that's how clear the photograph is to me! And yet it is being used as a photograph of a "real UFO"! Amazing.
It looks as a fine explanation has been found for a UFO picture.
Not so, click here.