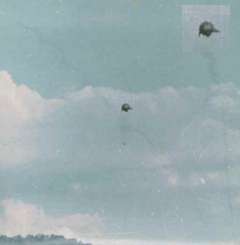 Cocoyoc, Morelos, 11.03.1973:
A Mexican bank official and his family watched a balloon-like flying object stop in front of them, splay out a number of what looked like tentacles and begin to descend. The women panicked as the husband tried to photograph the object, and as it neared the ground, the photographer, responding to his wife's hysteria, got into the car and raced away.
See the details of the three pictures and more information here.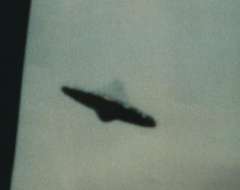 Puebla, 12.08.1992:
In Puebla, Mexico on December 8th, 1992 at midday, a passenger in a vehicle, who prefers to remain anonymous, observed and photographed a strange unidentified flying object outside the passenger's window. This incident occurred during the height of the Mexican UFO wave of 1992. Note the very close approach of the craft in this case. See this enlargement.