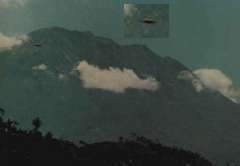 Bali Island, April 17, 1973:
Japanese tourist Ryo Terumoto, photographing the sacred Mount Gnung-Agun, captured a silvery metallic lens shaped flying object in the distance just below the left peak. It has been said that later analysis showed the image to be of a real object far away. A larger picture is available.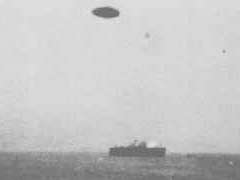 S. Herwang, November 1976:
At 2:00pm in November of 1976, Mr. Tony Hartono, an engineer, had taken photographs of the off- shore oil rig his company ARCO Indonesia was building in order to illustrate his progress report. He had one left and was standing on a platform facing the sea, wondering what else he could shoot to finish the film roll. Suddenly his attention was attracted to a little dark speck in the sky which was growing larger as it approached. It became a yellowish color as it continued its approach and came quite near the launch he was in. He used his last shot to capture this object on film.