The article underneath has been published by the news web site On Milwaukee, USA, January 29, 2003 at http://www.onmilwaukee.com/buzz/articles/ufowisconsin.html
05:23 a.m. January 29, 2003
UFO Wisconsin reports 10 sightings in new year
By Molly Snyder Edler
Although many of us are skeptical of anyone who claims to have seen an unidentified flying object, UFO Wisconsin (www.ufowisconsin.com) has already received 10 reports of supposed UFO sightings.
The first report came on New Years Day, from Lodi. "It was hovering over the Badger Ordinance area moving very slow with a hissing sound and blinking lights when it jetted off just like that and it was gone."
A week later, on Jan. 8, a report was filed by a man in Wauwatosa who claims, "I was driving down the street. I saw a bird flying along about 50 feet above the ground. It was just flying swiftly -- then BAM! -- it stopped in dead flight. Like it hit a wall and then fell and hit the road. Whatever it hit, it was transparent. The streetlights at this intersection where this occurred have been messed up for three days now."
Three reports came in on Jan. 14 , from Wisconsin Rapids, West Bend and Greenwood. One came in on the 15th from Wisconsin Dells and three sightings were reported on the 16th from Sturgeon Bay, Vesper and again from the Dells.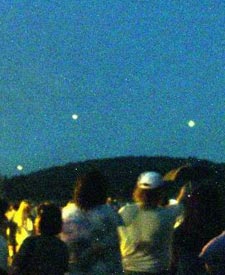 "At 6:15 p.m. I was driving west on Griffith Avenue towards town," reads one of the reports filed from Wisconsin Dells. "I was driving along and I saw five bright lights in the southwestern sky. They were very bright and circle shaped. It didn't appear to be moving at the time, but after five seconds, they started to flash. One by one they disappeared."
Finally, on Jan. 17, a report was filed from Cudahy. "My neighbor and I were looking out her picture window when I saw two silver-type objects in the sky. One seemed to be motionless, the other one was traveling in a westerly direction. It hovered for a bit and then went higher. It then hovered again and moved southward. Within a few seconds after this, it disappeared. It was an extremely bright white color. It seemed to have a slightly curved top."
John Hoppe and his wife started ufowisconsin.com in September of 2001, and since then, almost 80,000 people have visited the site. The site has two goals: to further the awareness of the UFO phenomena and to track the UFOs in our state's skies.
The idea for the web site was born in July of 2001 when the Hoppes attended the annual UFO Daze event at Benson's Hide-away on Long Lake. According to Hoppe, on the evening of July 21, 2001, approximately 50 witnesses saw UFO's fly over the lake.
"The site was created for Wisconsinites to be able to report Unidentified Flying Objects and get the attention that the sightings deserve," he says.
Hoppe, who lives in Sheboygan, claims to have experienced three UFO sightings since he was a child. "The term UFO doesn't necessary mean alien driven space craft; it simply means 'Unidentified Flying Object,'" says Hoppe. "Sometimes a simple-looking object at night can be easily misidentified. So take some extra time to gather as much information as possible."
After high school, Hoppe joined the Army where he became a mechanic. He later earned a diploma to be an Emergency Medical Technician and Paramedic and continues to take classes in computer programming, leadership and psychology. He currently works in Sheboygan as an offset pressman.
As for the existence of aliens, Hoppe is unresolved in his beliefs. He says he has never seen an alien, but is empathetic to those who have reported abductions and believes that someone -- or something -- must be driving the crafts. He also thinks, possibly, aliens are responsible for crop circles. "On another note maybe it's the government doing all this in the first place, " he admits.
UFO Wisconsin doesn't claim that these sightings actually happened, rather they provide a place for people to file reports and to have them published. The site also features a photo and video gallery, a UFO library, discussion groups and UFO news. It also cites Milwaukee's Flying Saucer Cafe as a UFO-friendly place to hang out.
UFO Wisconsin's next monthly meeting is scheduled for Sat., Feb 1 at the St. Francis Library, 4230 S. Nicholson Ave. The meeting is free and open to everyone: believers, non-believers, those who have seen a UFO and those who are simply curious.
"We respect everyone's opinions," says Hoppe. "I have learned early on that once a firm belief exists in someone, it is hard to change that belief."