The UFO phenomenon in the daily Press:
July 7, 1947, French Press:
This article is from the French daily newspaper La France, published on July 7, 1947.
As the suggestion that the "flying discs" may be of extraterrestrial origine was not widespread at the time, the scientists had no problem ro refute the notion that they may be "celestial bodies," they did not suggest that the witnesses can be liars or victims of "hallucinations," and did not think that if a government has secrecies, there are "leaks."
The "rubber band propelled flying saucer" of George De Bay mentionned here precedes the research by NACA then NASA on the "lifting body" concept, except of course that the rubber band propulsion was not adopted.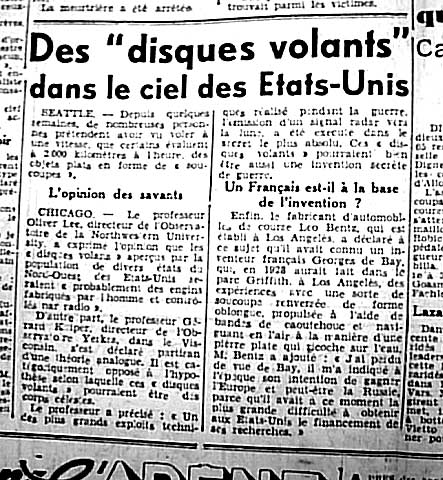 "Flying Disks" in the United States sky
SEATTLE. - For a few weeks, many people have claimed to have seen flying at a speed that some evaluate as 2000 kilometers per hour, flat objects with a "saucer" shape.
The opinion of the scientists
CHICAGO. -- Professor Oliver Lee, director of the Northwestern University observatory, expressed the opinion that the "flying discs" seen by the population of various states in the North-West were "probably radio controlled man made crafts."
Furthermore, professor Gerard Kiper, director of the Yerkra observatory, in Wisconsin, has declared that he favours a similar theory. He is categorically opposed to the hypothesis that these "flying discs" may be celestial bodies.
The professor specified: "One of the greatest technical exploits realized during the war, the emission of a radar signal towards the moon, was carried out in the absolute secrecy. These " flying discs" could also very well be a secret invention of war.
A Frenchman as the source of the invention?
Finally, the automobiles manufacturer Leo Benz, who is established in Los Angeles, declared on this matter that he had known a French inventor, George de Bay, who, in 1928, in Griffith Park, in Los Angeles, had made experiments with a kind of reversed saucer of oblong form, propelled by rubber bands and sailing through the air like a stone does ricochets on water. Mr. Benz adds: "I have lost the trace of De Bay, he told me at the time his intention to gain Europa and perhaps Russia, because he had enormous difficulties to obtain fronm the United States that they finance his research."