URECAT - UFO Related Entities Catalog
March-April 1877, Aldershot, Hampshire, U-K., army sentries:
Brief summary of the event and follow-up:
From 1837 on, in Victorian England, stories about a character quickly dubbed "Spring Heeled Jack" started to circulate by popular rumors and articles in sensationalist newspapers. After a few decades of pause, these "Spring Heeled Jack" stories appeared again, for example in the vicinity of the barracks of the British Army in Aldershot, where in 1877, the character appeared several times after March.
In these latter cases, the army gazette explained that this man had his fun with the sentinels, approaching their sentry boxes stealthily, climbing on them, and scaring the sentries by slapping them on the face, then fleeing with agility, benefiting from the effect of surprise. The gazette explained that this was a dangerous game, since the prankster was likely to be shot down by those sentries who would not remain awestruck long enough to forget to aim their guns at him and shoot after the usual warnings; indeed, rifles were soon loaded blank in order to avoid such a dramatic ending. Ancients of the Army indicated thereafter that one of their own officer was actually suspected to have been the prankster. Trashy tabloids of course exagerated the story and "Spring Heeled Jack" appears on frontpages drawn like a terrifying ghost.
Decades later, authors of articles on mysterious event and sensationalist careless ufologists grabbed such old stories and completely deteriorated them. A ufologist of the Flying Saucer Review crew invented that the "creature" had a luminous helmet, pointed ears, the faculty to fly in the airs, a paralyzing ray - suggested by distorting the mentions of the time that sentinels had been paralyzed by fear - and presented these stories as those of witnesses of an extraterrestrial creature having had a flying saucer crash or failure.
In spite of the absence of UFO, absence of landing, absence of extraterrestrial being, the distorted version was included in a catalogue of UFO landings that had much success, as that of a mysterious creature in tight-fitting suit and spitting a paralyzing blue light, flying in the airs, and resistant to gunshots.
Basic information table:
| | |
| --- | --- |
| Case number: | URECAT-000077 |
| Date of event: | March-April 1877 |
| Earliest report of event: | March 17, 1877. |
| Delay of report: | Days. |
| Witness reported via: | Not known. |
| First alleged record by: | Military journal. |
| First certain record by: | Military journal. |
| First alleged record type: | Military journal. |
| First certain record type: | Military journal. |
| This file created on: | December 12, 2006 |
| This file last updated on: | August 1, 2007 |
| Country of event: | U-K |
| State/Department: | Hampshire |
| Type of location: | Near and in barracks. |
| Lighting conditions: | Uncertain. |
| UFO observed: | No |
| UFO arrival observed: | No |
| UFO departure observed: | No |
| UFO/Entity Relation: | None |
| Witnesses numbers: | 1 |
| Witnesses ages: | Adults |
| Witnesses types: | Army sentry. |
| Photograph(s): | No. |
| Witnesses drawing: | No. |
| Witnesses-approved drawing: | No. |
| | |
| --- | --- |
| Number of entities: | 1 |
| Type of entities: | Human. |
| Entities height: | Normal |
| Entities outfit type: | One piece tight fitting and cape. |
| Entities outfit color: | Not reported. |
| Entities skin color: | Not reported. |
| Entities body: | Normal. |
| Entities head: | Normal. |
| Entities eyes: | Normal. |
| Entities mouth: | Normal. |
| Entities nose: | Normal. |
| Entities feet: | Normal. |
| Entities arms: | Normal. |
| Entities fingers: | Normal. |
| Entities fingers number: | Normal. |
| Entities hair: | Normal. |
| Entities voice: | Not known. |
| Entities actions: | Slap witnesses in the face and run away. |
| Entities/witness interactions: | Entity plays pranks. |
| Witness(es) reactions: | Surprized, frightened, make summation, shoot. |
| Witness(es) feelings: | Surprized, frightened. |
| Witness(es) interpretation: | Prankster. |
| Explanation category: | Pranks and sensationalist rumors. |
| Explanation certainty: | High. |
Narratives:
[Ref. jv1:] JACQUES VALLEE:
In his listing of UFO landings cases, Jacques Vallée indicates that on May 15, 1877, in Aldershot, Hampshire, U-K, a strange being dressed in tight-fitting clothes and shining helmet soared over the heads of two sentries, who fired without result.
The apparition stunned them with something described as "blue fire."
Vallée indicates that his source is "FSR 61, 3" and his own book.
[Ref. pd1:] PIERRE DELVAL:
Pierre Delval indicates in a list of "flying anthropoids" that on May 15, 1877, in Aldershot, in Hampshire in Great Britain, at the entry of barracks, a creature clad in a "moulded suit" and carrying a phosphorescent helmet, rose in the airs above two sentinels in faction.
The frightened soldiers fired at him with their rifle without result, and at once after having opened fire, these soldiers remained paralyzed during a few seconds.
[Ref. mb2:] MICHEL BOUGARD:
The author indicates that in Aldershot, on May 15, 1877, a strange being dressed in "tight-fitting clothing" and the head under a "shining helmet" flew over two sentinels who were dazed by a blue light.
[Ref. mb1:] MICHEL BOUGARD:
The author indicates that the famous Spring Heel Jack made his return first in an article of the "Illustrated Police News" for April 28, 1877, mentioning events in Aldershot:
"... sentinels of two guardrooms were frightened by the appearance of two brilliant ghosts in the night, shining as if they were covered with phosphorus (...) the forms could make jumps of ten meters length..."
[Ref. yn1:] YVES NAUD:
The author indicates that on May 15, 1877, an inhabitant of Aldershot, Hampshire, Great Britain, saw "a strange being in tight-fitting clothes wearing a shining helmet rise in the airs."
This testimony was confirmed by two sentinels which also saw him and even shot at him, without result. The sentinels said that the appearance "paralyzed us with fear".
[Ref. cb1:] CHARLES BERLITZ:
In an article on the mysteries of "Spring Heel Jack", the author evokes that in Aldershot, in 1877, he did one of his last appearances in the military barracks where he attacked three sentinels who fired at him in vain.
[Ref. ct1:] JEROME CLARK ET MARCELLO TRUZZI:
The two authors summarize the Springheel Jack affair from 1838 to 1877, indicating that for some, it was the marquis Henry of Waterford, deceased in 1959, but that others doubt it because the Springheel Jack's jumps "are physically impossible."
[Ref. bb1:] ROGER BOAR ET NIGEL BLUNDEL:
The authors indicate that in Aldershot in the United Kingdom, in May 1877, a silhouette reminding of Spring Heel Jack [a man leaping on springs, according to popular stories] appeared outside an Army place.
Two sentinels which were very good shooters fired at him at very short distance and hit, because it had refused to stop at their summations.
[Ref. jc1:] JEROME CLARK:
The author provides a good oversight on the "Springheel Jack" stories on victorian England. On the Aldershot events, he provides a late illustration of the scene, commenting that this modern illustration gives him a distinctly extraterrestrial appearance.
[Ref. dp1:] DAVID PRATT:
David Pratt indicates that "Spring Heel Jack", appeared in August 1977 before soldiers at a military base in Aldershot. He was clad in an oilskin suit and wearing a shining helmet.
A sentry fired on him and claimed that his bullet passed through him without effect.
[Ref. jb1:] JEROME BEAU:
Jerome Beau indicates that on May 15, 1977 in Aldershot in Hampshire, a being in tight-fitting clothes like stockings and carrying a shining helmet rose in the airs above two sentinels who shot at him without result.
The appearance paralyzed them with what they described as a blue fire. Jerome Beau indicates that the character recalls in all point that of "Spring-Heels Jack" who made speak about him in 1837 and 1838. He indicates "FSR 61.3" and "Vallée 1988" as sources.
[Ref. ac1:] ANONYMOUS COMMENT:
A 2006 reviewer of the book "The Legend and Bizarre Crimes of Spring-heeled Jack", by Peter Haining, on an Internet sales website, indicates that "his sketchy coverage of his subject's appearances at the army camp at Aldershot in 1877 could have been supplemented by extracts from military memoirs or with reference to the numerous accounts published at the time by "Sheldrake's Aldershot" and "Sandhurst Military Gazette."
[Ref. fs1:] SOUTH EAST LONDON FOLKLORE SOCIETY:
In their study of Spring Heeled Jack lore, the society mentions that the Aldershot Ghost was popularly attributed to a prankster and was one of the rare occasion where it physically interacting with his victims, soldiers on nocturnal guard duty at the barracks, and only then with a slight slap to the face before bounding off.
[Ref. md1:] MIKE DASH:
Mike Dash notes that in the spring of 1877, spring Heeled Jack began to haunt a dangerous place, the barracks at Aldershot, Surrey, which were headquarters of the British army with perhaps 10,000 troops stationed, guarded night and day by armed sentries. The risk of appearing there, says Dash, seemed to confirm he was no ordinary man, if indeed he was a man at all.
Spring Heeled Jack tormented the camp's sentries on several occasions starting on March 1877, and until the autumn of that year. He appeared at lonely sentry boxes in outlying parts of the camp, clambering onto them and passing an ice-cold hand over the faces of the startled soldiers within, then fleeing with his usual agility. On at least two cases, the sentries recovered their composure in time to shoot at him, but if he was hit, he showed no sign of being wounded.
Dash explains that the "Illustrated Police News" cited as source by secondary authorities was a rather dubious source, an outlandish paper specialized in sensational reporting of grisly rapes and murder cases, especially popular for the lurid wood-cuts that decorated its front page. Spring Heeled Jack was three times on its frontpage during 1877, with the first two appearances in Aldershot. He is painted as a traditionally incorporeal, "sheet-clad" phantom instead of a tight-clad demon.
Dash indicates more reliable sources for the Aldershot Camp 1877 events, the local military newspaper, "Sheldrake's Aldershot" and the "Sandhurst Military Gazette", which covered it starting on 17 March 1877 by reporting:
"Some one or other appears to have made up his mind to play some rather questionable pranks with the sentries at this Camp while on night duty. About a week ago it appears, but we do not vouch for the correctness of the story, a sentry was on duty at the North camp, and about midnight someone came towards him, who refused to answer to the usual challenge of "who comes there," and after dodging about the sentry box in a fantastic fashion for some little time, made off with astonishing swiftness, not however until the sentry had loaded his rifle and fired, but without any effect. "Spring-heeled Jack", as he has been termed, in Camp, then paid a similar visit to the sentry on duty near the cemetery, who also fired, but alas without hitting the object at which he aimed. What or who the individual who is thus amusing himself might be we do not know but such little bits of fun might be carried just too far; and enjoyment of this kind had better be discontinued before one of the nocturnal pranks leads to unpleasant results."
Dash indicates that a month or so later, the same paper indicated that Jack had been "kind enough to inform a gentleman the other night that his object is to frighten the British army", and skeptically noted that "the moonlight night have rather interfered with the spectre's perambulations." The article's author expresses the convinced opinion that Jack was a human prankster.
Dash indicates that The Times, for April 28, 1877, informed that a likely suspect had entered the camp one evening carrying a carpet bag which, evidently to the newspaperman, contained the costume of Spring-heeled Jack. This reporter also mentioned that "the ghost" had slapped one sentry several times around the face before fleeing across the terrain "with astonishing bounds." The ghost had wrestled with another guar who had received two black eyes in the struggle, and escaped near the Female Hospital by outrunning a number of pursuers.
The Times article said:
"A tall gentleman, carrying a carpet bag, was met by some provosts about 10 o'clock going into camp. He was stopped, but on stating he was an officer they allowed him to proceed. It is hardly probable, however, that an officer would be walking into Camp at that hour, there being no late train, or that he would have been carrying a carpet bag. It is therefore not unreasonable to suppose that had the provosts followed the person in question the Aldershot ghost mystery would have been solved."
Dash indicates that Spring-heeled Jack was not seen anymore in Aldershot after the end of April 1877, except for a return at the end of summer, according to the "Illustrated Police News", this second apparition being totally unmentioned in the other sources.
This tabloid claimed that "his method of proceeding seems to be to approach unobserved some post, then climb the sentry box, and pass his hand, which is arranged to feel as cold and clammy as that of a corpse, over the face of the sentinel. The sentries had lately been ordered to fire on the ghost, and were loaded with ball, but this precaution had lately been given up."
An apparition on August 31, 1877 is mentioned, the "ghost" managing to reach unseen the powder magazine in the North Camp, where he nearly frightened the sentry out of his wits, slapping his face with his death-like hand, and then he disappeared, "hopping and bounding in to the mist."
The "Illustrated" expressed surprise because the principal suspect for the pranks during the spring had left Aldershot by the end of August.
Mike Dash indicates the Press sources of that time: "Illustrated Police News" for April 28 and September 8, 1877, "Sheldrake's Aldershot and Sandhurst Military Gazette" for March 17, April 21, April 28, 1877 and "The Times" for April 28. 1877.
Dash gives an excellent argumentation on several points, pointing out for example that the pranks resumed conveniently when the sentries were ordered to shoot blank to avoid a tragedy, while there was no more "ghost" during the time when their weapons were really loaded and their orders were to shoot.
Even better, Dash discovered that 30 years later, a senior Army officer, Colonel Alfred Welby, published that the army actually had a suspect, the Colonel writing in "Spring-heeled Jack, Notes and Queries", June 22, 1907, section 10, VII, page 496:
"More than 30 years ago jumping pranks were played many nights on the sentry over the magazine by the canal near the South Camp at Aldershot. It was a lonely spot at some distance from the guard-room. Jack used to spring across the canal while the sentry, pacing his beat, was walking away from it, and then on to the man's shoulders, sorely frightening him, and usually disarming him by carrying off his rifle. The pranks were popularly attributed to a lively officer of the Rifles; he certainly was not convicted of them, and I do not know that he ever acknowledged himself to be Spring-heeled Jack."
Dash checked the identity of colonel Welby and found that indeed his name appears on the relevant Army lists. Dash also found that two army officers of that time indicated the name of the principal suspect: Lieutenant Allfrey, of the 60th Rifles, "a very big and powerful man, but extraordinarily active", this being noted in "40 Years On", by Lord Ernest Hamilton, London, pp.162–4, 1922, quoting Major General Sir John Adye. Allfrey however never confessed.
Mike Dash lists a number of secondary publication that are riddled with deformations and omissions on the story. He indicates an article in "Everybody's Magazine" for February 20, 1954, pp.12-13, where writer and radio personality Valentine Dyall introduces the name of John Regan as one of the sentries terrified by Jack during his visits to Aldershot while this name does not appear in any original sources, neither in the Army's lists. He notes that Dyall incorrectly dates the first appearances to the summer of 1877 and gives a lurid version of the events, describing "a tall, thin figure in a tight-fitting suit and huge, gleaming helmet of fantastic design... lunged forward, rising from the ground with the ease of a bird. As it swooped over Regan's head a stream of thin blue flame spurted from its mouth..." Dash indicates that none of these details appear in any older sources. On the invulnerability to bullets claimed by ufologists, he writes: "Nowhere in the available contemporary material is there any suggestion that bullets passed straight through the leaping terror."
Dash discusses the Flying Saucer Review article by ufologist J. Vyner. The latter wrote about the story in response to an earlier editorial request for evidence of alien visitors to earth prior to the beginning of the UFO age in 1947, and portrayed Spring Heeled Jack as an alien stranded on earth after a crash of his UFO, allotting the "assaults" to attempts to find an alien friend who would help him get back "home". Hence Vyner made descriptions of an alien Spring-heeled Jack; which was then used by other ufologists. Vyner gave the "alien" a tall, thin and powerful stature, a prominent nose, pointed ears, bony fingers, he made it fly in the airs, wore a flowing cape, closefitting garments of some glittering material like oilskin or metal mesh, a tall metallic helmet, a lamp on his chest, some sort of gas-gun, all this without citing any sources.
[Ref. wi1:] WIKIPEDIA:
"... in August 1877; one of the most notable reports about Spring Heeled Jack came from a group of soldiers in Aldershot's barracks. This story went as follows: A sentry on duty at the North Camp peered into the darkness, his attention attracted by a peculiar figure bounding across the road towards him, making a metallic noise. The soldier issued a challenge, which went unheeded, and the figure vanished from sight for a few moments. As the soldier turned back to his post, the figure reappeared beside him and delivered several slaps to his face with "a hand as cold as that of a corpse". Attracted by the ensuing noise, several men rushed to the place, but they claimed that the character leapt several feet over their heads and landed behind them. According to their testimony, Spring Heeled Jack simply stood there, watching them and grinning, apparently waiting for their reaction with glee. One of the guards shot at him, with no visible effect other than to enrage his target; some sources (citation needed) claim that the soldier may have fired blanks at him, merely used to make warning shots. The strange figure then charged towards them and spat blue flames at them from his mouth, making the guards desert their posts in panic, and then disappeared into the surrounding darkness."
"There were several more alleged attacks of Spring Heeled Jack on guards at Aldershot. All these sightings concurred in the description: tall, muscular complexion, wearing a helmet and a white tight fitting oilskin suit."
Points to consider:
| | |
| --- | --- |
| | The Aldershot barracks as they appeared on a 1866 woodcut. |
Folkorist Mike Dash pretty much wrapped the case; which has nothing to do with space aliens and was very probably the deeds of a prankster.
Ufologist John Vyner in the Flying Saucer Review distorted practically the entire story to make it fit a will to put forth alien encounters in Victorian England.
After that, Jacques Vallée gave the story a wide distribution by including it in a catalogue of UFO landings although there is no UFO, no landing, no alien here, and it was propagated further by more ufologists in the decades that followed.
A comparison between the original story and the version by careless ufologist makes for a terrible case of distortion of facts:
| Contemporary reliable sources: | Vyner, Vallée etc.: |
| --- | --- |
| There are contemporary original sources for the story including sensationalist tabloids. | Ufologists quote other ufologists as sources instead of contemporary sources. |
| There were several occurrences. | Ufologists give one date for one occurrence, each of them gives a different date. |
| There were clues that it was a prankster. | No search for any commonplace explanation is made by ufologists. Clues that it was a prankster unmentioned. |
| It was "Spring Heeled Jack", a man. | It was a "creature". |
| He sometimes escapes sentries shooting blank. | It resisted bullets. |
| He climbed on sentries boxes and run away fast. | It flew in the air. |
| He frightened sentries. | It paralyzed witnesses with a ray. |
| - | It had some "lamp" on his chest. |
| - | It must have had a flying saucer. |
| - | It was thin and tall with bony fingers. |
| - | It had a prominent nose and pointed ears. |
| - | It had a gleaming/luminous/phosphorescent helmet. |
| - | It had a gas gun. |
| | |
| --- | --- |
| | Drawing of a Spring Heeled Jack appearance, not in Aldershot, from the contemporary "Penny Dreadful" tabloid. |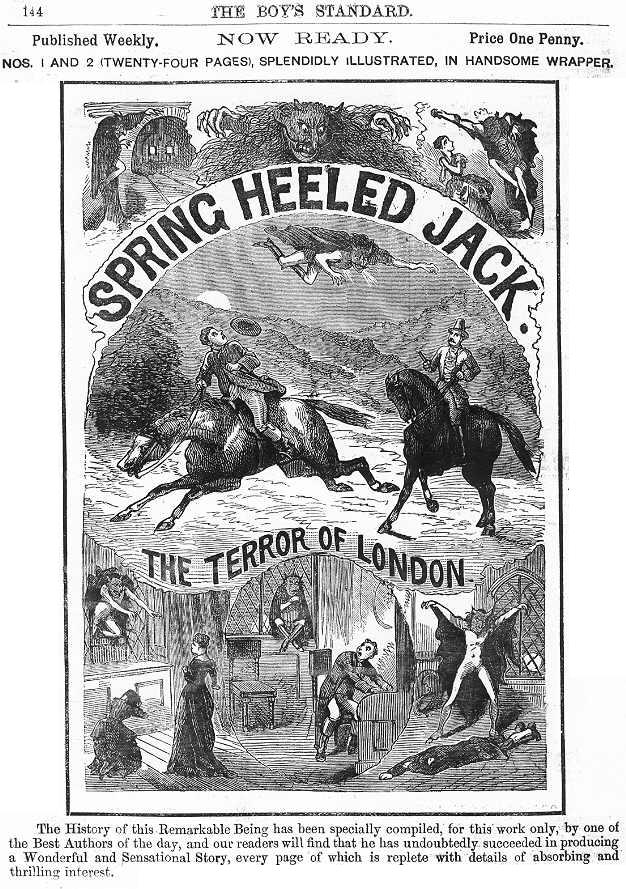 Drawing on the cover of a boys' magazine of the time.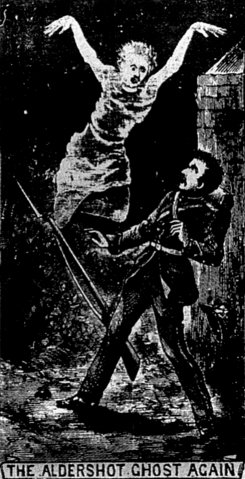 Drawing in a sensationalist
magazine of the time.
List of issues:
Id:
Topic:
Severity:
Date noted:
Raised by:
Noted by:
Description:
Proposal:
Status:
None.
Evaluation:
Pranks and sensationalist rumors.
Sources references:
* = Source I checked.
? = Source I am told about but could not check yet. Help appreciated.
Document history:
Authoring
| | |
| --- | --- |
| Main Author: | Patrick Gross |
| Contributors: | None |
| Reviewers: | None |
| Editor: | Patrick Gross |
Changes history
| Version: | Created/Changed By: | Date: | Change Description: |
| --- | --- | --- | --- |
| 0.1 | Patrick Gross | December 12, 2006 | Creation, [jv1], [pd1], [mb1], [yn1], [cb1], [bb1], [dp1], [jb1], [ac1], [fs1], [md1], [wi1]. |
| 0.2 | Patrick Gross | December 12, 2006 | First published. |
| 0.2b | Patrick Gross | February 14, 2007 | Addition, [mb2]. |
| 0.2c | Patrick Gross | June 5, 2007 | Addition, [ct1]. |
| 1.0 | Patrick Gross | August 1, 2007 | Conversion from HTML4 to XHTML Strict. |