Documents:
Found in the attic...
UFOs in my region - 1980 - Keel / Vallée thesis at the town hall: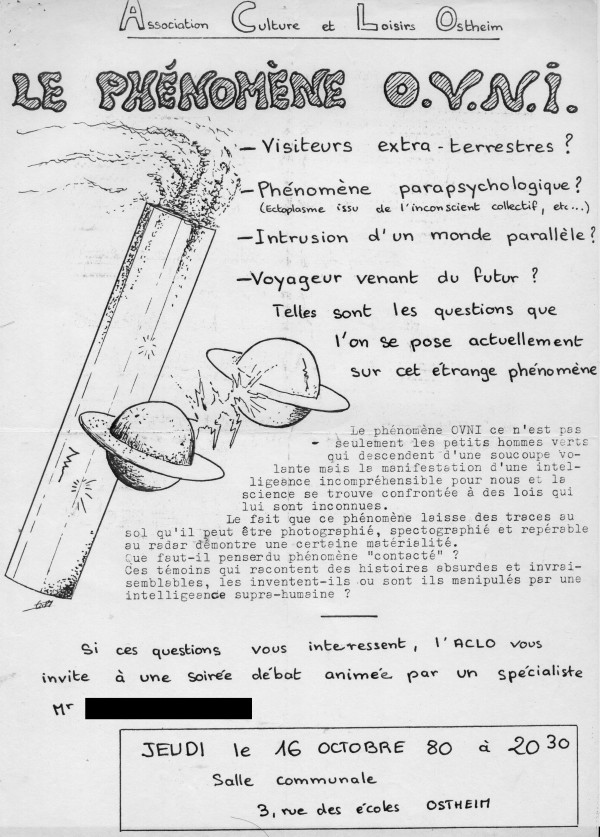 Culture and Leisures Association of Ostheim
THE U.F.O. PHENOMENON
Extra-terrestrial visitors?
Psychic Phenomenon?
(Ectoplasm coming from the collective unconscious, etc...)
Intrusion of a parallel world?
Time travelers?
Such are the questions currently asked about this strange phenomenon
The UFO phenomenon is not only the little green men who come down from a flying saucer but the display of an intelligence incomprehensible to us and science is confronted with laws it has no knowledge of.
The fact that this phenomenon leaves traces on the ground, that it can be photographed, spectrographed and is locatable by radar shows a certain materiality.
What to make of the "contactees" phenomenon?
These witnesses who tell absurd and unbelievable stories, are thy making it up or are they manipulated by a supra-human intelligence?
If these questions are of interest to you, the ACLO
invites you at an evening of discussion animated by an expert
Mr. [you wouldn't have heard of him.]
THURSDAY OCTOBER 16, 1980 AT 08:30 p.m.
Townhall
3, rue des écoles OSTHEIM [Alsace, France]