Documents:
Found in the attic...
Cosmic Brotherhood to Richard Hall, 1977
This is a letter from a Brazilian - Argentine UFO group sent to Richard Hall, of the Mutual UFO Network, in 1977. Richard Hall had no possibility to translate, so he filed it, and forwarded it to me much later with many other documents because I was able to translate. I translated the most interesting documents first and sent him back the translations, unfortunately Richard died shortly after that. Here we have a document of "less importance", obviously. It has a quite pompous side, the group calling itself a "cosmic brotherhood", showing the (fake) "Adamski saucer" in their logo, and calling Richard Hall "Cosmic brother"; this obviously made him frown, hence the use of the red pen. Richard Hall was - rightly - completely adverse to the "contactees" productions and the folklore of the "space brothers" kind.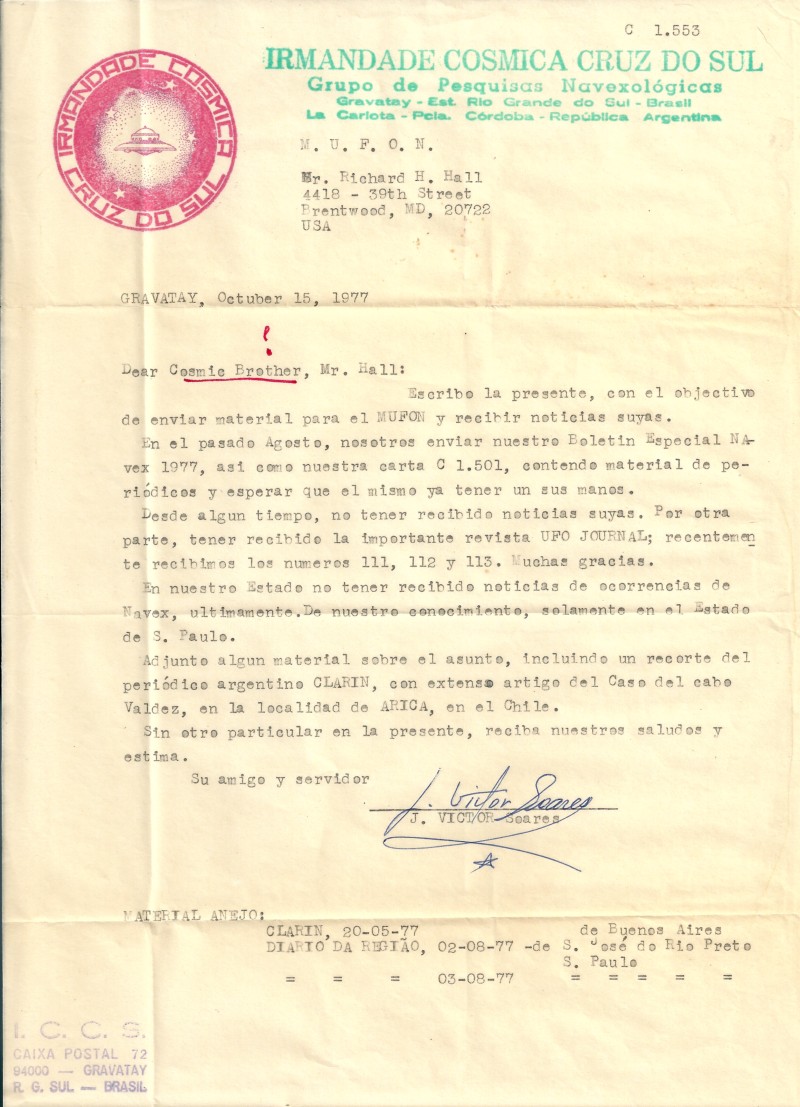 C 1.553
COMIC BROTHER HOOD OF THE SOUTH CROSS
Navexology Research Group
Gravatay - Est. Rio Grande do Sul - Brazil
La Cariola - Pela. Cordoba - Republic of Argentine
M.U.F.O.N.
Mr. Richard H. Hall
4418 - 39th Street
Brantwood, MD, 20722
USA
GRAVATAY, October 15, 1977
Dear comsic Brother, Mr. Hall:
We write this letter with the objective to send material for the MUFON and to receive news.
Last August, we sent our Special Bulletin Navex 1977, as well as our letter C 1.501, containing material from periodicals and we hope that this is already in your hands.
For a certain time, we did had no news from you. On the other side, we received the important magazine UFO JOURNAL; recently we received the issues 111, 112 and 113. Thank you very much.
In our State we did not receive new events from Navex, lately. To our knowledge, [there were cases] only in the state of S. Paulo.
Herewith is some material on the case, including a news clip from the Argentinian newspaper CLARION, with an extensive article on the Case of chief Valdez, in the locality of ARICA, in Chile.
Without being particularly in the present [in a hurry?], receive our greetings and our regards.
Your friend and servant
ATTACHED MATERIAL:
CLARIN, 20-05-77 of Buenos Aires
DIARIO DA REGIAO, 02-08-77 - of S. José do Rio Preto S. Paulo
DIARIO DA REGIAO, 03-08-77 - of S. José do Rio Preto S. Paulo
I.C.C.S.
P.O. Box 72
94000 - GRAVATAY
R.G. DO SUL - BRAZIL
Original transcript:
C 1.553
IRMANDADE COSMICA CRUZ DO SUL
Grupo de Pesquisas Navexológicas
Gravatay - Est. Rio Grande do Sul - Brasil
La Cariola - Pela. Córdoba - Republica Argentina
M.U.F.O.N.
Mr. Richard H. Hall
4418 - 39th Street
Brantwood, MD, 20722
USA
GRAVATAY, Octuber 15, 1977
Dear Cosmic Brother, Mr. Hall:
Escribe la presente, con el objectivo de enviar material para el MUFON y recibir noticias suyas.
En el pasado Agosto, nosostres enviar nuestre Boletin Especial Navex 1977, asi como nuestra carta C 1.501, contende material de periódicos y esperar que el mismo ya tener un sus manos.
Desde algun tiempo, no tener recibido noticias suyas. Por otra parte, tener recibido la importante revista UFO JOURNAL; recentemente recibimos los numeros 111, 112 y 113. Muchas gracias.
En nuestro Estado no tener recibido noticias de ocorrencias de Navex, ultimamente. De nuestre conocimiento, solamente en el estado de S. Paulo.
Adjunto algun material sobre el asunto, incluindo un recorte del periódicos argentine CLARIN, con extense artigo del Caso del cabo Valdez, en la localidad de ARICA, en el Chile.
Sin etre particular en la presente, reciba nuestros saludos y estima.
Su amigo y servidor
J. VICTOR Soares
MATERIAL ANEJO:
CLARIN, 20-05-77 de Buenos Aires
DIARIO DA REGIAO, 02-08-77 - de S. José do Rio Preto S. Paulo
DIARIO DA REGIAO, 03-08-77 - de S. José do Rio Preto S. Paulo
I.C.C.S.
CAIXA POSTAL 72
94000 - GRAVATAY
R.G. SUL - BRASIL