Documents:
Found in the attic...
The flying saucer of Le Plessiel airfield, France, 1955: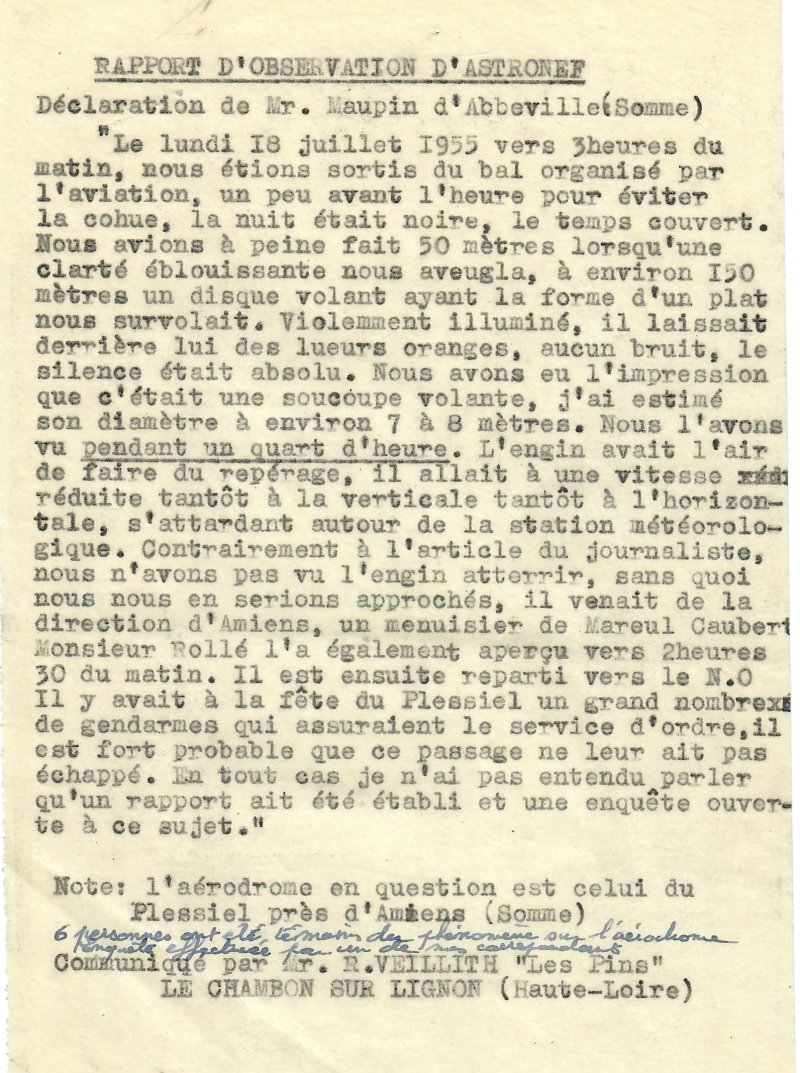 SPACECRAFT OBSERVATION REPORT
Statement of Mr. Maupin of Abbeville (the Somme)
On Monday, July 18, 1955, around 3 a.m., we were out of the ball organized by the aviators, a little before the closing time to avoid the crowd, the night was dark, the weather was overcast.
We had barely moved 50 meters when a dazzling light blinded us, at about 150 meters, a flying disc in the shape of a plate flew over us. Brilliantly illuminated, it left behind orange lights, no sound, the silence was absolute. We had the impression that it was a flying saucer, I estimated its diameter at about 7 or 8 meters. We saw it for a quarter of an hour. The machine seemed to be in exploration, it was going at a reduced speed sometimes vertically, sometimes horizontally, lingering around the weather station. Contrary to the journalist's article, we did not see the craft land, otherwise we would have approached, it came from the direction of Amiens, a carpenter of Mareul Caubert Mr. Rollé also saw it at 2:30 o'clock in the morning. It then went back to NW.
There was a large number of gendarmes at the Le Plessiel party who were in charge of the service of order, it is very likely that this passage did not escape them. In any case, I have not heard that a report has been prepared or an investigation opened into this matter."
Note: the aerodrome in question is that of Le Plessiel near Amiens (the Somme)
6 people witnessed the phenomenon on the airfield
investigation carried out by one of my correspondents.
Communicated by Mr. R. VEILLITH "Les Pins"
LE CHAMBON SUR LIGNON (the Haute-Loire)
Raymond Veillith, (Raymond Eugene Léopold Veillith, 1920-2009) who typed this note, was later, in 1958, the founder of the Lumières Dans La Nuit magazine. First dealing with almost esoteric or spiritualists topics, the magazine became purely ufological afterwards, and still exists today.
Although the case was not a case of landing, which was a journalistic invention, Jacques Vallée included it as such in his catalog called "Magonia" UFO landings, indicating that there was no landing, that his source is "personal". In some of the translation, the weather station ("station météo") was changed into subway station ("station de métro"):
Jul. 18, 1955 0300 Plessiel Airfield, near Abbeville (France).
Mr. Maupin and five other witnesses on the airfield were blinded by a light from a disk-shaped object 150 m away. It left orange glows in its trail. Silent, flying slowly, it hovered near the Metro station, close to the ground, but did not actually land. It left toward the northwest. A woodsman from Mareul-Caubert, Mr. Rolle, saw the object half-an-hour earlier. It came from the direction of Amiens. (Personal)