ALSACAT:
Case of Colmar, on March 20, 1977:
Case number:
ALSACAT-1977-03-20-COLMAR-1
Summary:
In the ufology magazine Lumières Dans la Nuit #221-222 for November / December 1982, local ufologist Jacques Journot reported on his investigation into a case à in Kaysersberg in 1982; on this occation ufologist Fernand Lagarde write some comments, and listed some other sightings around this town, including one in Colmar, on March 20, 1977.
Data:
Temporal data:
| | |
| --- | --- |
| Date: | March 20, 1977 |
| Time: | ? |
| Duration: | ? |
| First known report date: | 1982. |
| Reporting delay: | 5 years. |
Geographical data:
| | |
| --- | --- |
| Department: | Haut-Rhin |
| City: | Colmar |
| Place: | |
| Latitude: | 48.075 |
| Longitude: | 7.356 |
| Uncertainty radius: | 5 km. |
Witnesses data:
| | |
| --- | --- |
| Number of alleged witnesses: | ? |
| Number of known witnesses: | ? |
| Number of named witnesses: | ? |
| Witness(es) ages: | ? |
| Witness(es) types: | ? |
Ufology data:
| | |
| --- | --- |
| Reporting channel: | Ufology magazine. |
| Type of location: | ? |
| Visibility conditions: | ? |
| UFO observed: | Yes |
| UFO arrival observed: | ? |
| UFO departure observed: | ? |
| Entities: | No |
| Photographs: | No. |
| Sketch(s) by witness(es): | ? |
| Sketch(es) approved by witness(es): | ? |
| Witness(es) feelings: | ? |
| Witnesses interpretation: | ? |
Classifications:
| | |
| --- | --- |
| Hynek: | ? |
| ALSACAT: | Totally insufficient information, possible PAGEOS. |
Sources:
[Ref. ldl1:] UFOLOGY MAGAZINE "LUMIERES DANS LA NUIT":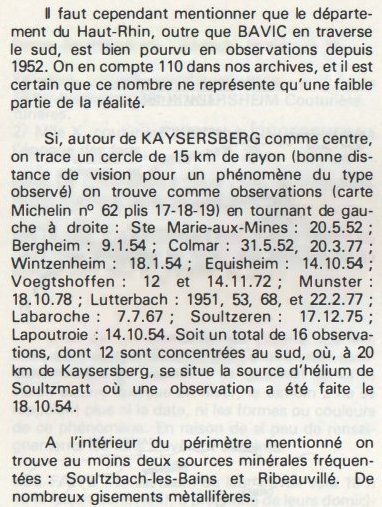 [...]
It should be mentioned, however, that the Haut-Rhin department, in addition to BAVIC crossing its south, has been well supplied with observations since 1952. There are 110 of them in our archives, and it is certain that this number represents only a small part of reality.
If, around KAYSERSBERG as the center, we draw a circle with a radius of 15 km (good viewing distance for a phenomenon of the observed type) we find as observations (Michelin map #62 folds 17-18-19) by turning from the left to the right: Ste Marie-aux-Mines: 5/20/52; Bergheim: 1/9/54; Colmar: 5/31/52, 3/20/77; Wintzenheim: 1/18/54; Eguisheim: 10/14/54; Voegtshoffen: 12 and 11/72; Munster: 10/1878; Lutterbach [sic]: 1951, 53, 68, and 2/22/77; Labaroche: 7/7/67; Soultzeren: 12/17/75; Lapoutroie: 10/14/54. That is a total of 16 observations, 12 of which are concentrated in the south, where, 20 km from Kaysersberg, is the source of helium of Soultzmatt where an observation was made on 10/18/54.
Notes: In the years 1960-1980, ufologist Fernand Lagarde searched for "connections" between UFO observations places and, among other things, "geological faults". Without wishing to specify what such a link would demonstrate, he had often commented on reports of investigations by local investigators published in the ufology magazine Lumières Dans La Nuit, intending to show that such geographic connections did exist.
In the case of Alsace, the task is easy: the whole of the plain of Alsace is a basin of collapse of the old Hercynian mountain range top, of which only the "edges" remain, the Vosges and the Black Forest on the other side of the Rhine River, in Germany. As a result, one should claim that all observations in Alsace are located on a geological fault! Is there anything to be concluded from this as to the nature of the observations? In my opinion, absolutely nothing.
As for "BAVIC", mentioned by Lagarde, it was about a line across France passing by the cities of BAyonne and VIChy, on which the pioneer ufologist Aimé Michel had thought in the years 1950, that on September 24, 1954, there were such a large number of "aligned" sightings on this line that mere chance could not account for it.
Michel, not having the resources to go check each observation report, argued that this alignment signified the reality and the remarkable nature of these observations since hallucinations, lies and misinterpretation could not be propagated on such a straight line.
In reality, the "statistically improbable" character of this alignment has been questioned, but above all, most if not all of the cases he cited for this day are not only explained by trivial causes (mistakes, hoaxes ...), not only were they badly dated and almost never occurred on September 24, 1954, but also, Aimé Michel had not at all been aware of all the cases of that day.
Aimé Michel, at the end of the 1960s, admitted that the "BAVIC line" had no reality; but many others like Fernand Lagarde continued to promote it as a "fact", "extending" the line geographically all around the world and extending it temporally to any observation on this line whatever the date, but without ever verifying that it there would really be a statistical anomaly in this.
Discussion:
There is no data for this observation at the moment except "Colmar" and the date; I should therefore limit myself to indicating that the information is totally insufficient.
However, on March 16, 17, and 19, 1977, in the Haut-Rhin, several observations had taken place, better documented, which can very well be explained by debris from the stratospheric balloon PAGEOS, debris whose dates and hours of visibility were actually reported in at least one ufology bulletin at that time.
PAGEOS (PAssive Geodetic Earth Orbiting Satellite) was a geodetic balloon-satellite, launched by NASA in June 1966, set up to form a global triangulation network with accuracy of 3 to 5 meters.
The balloon had a diameter of 30 meters and was made of Mylar (the very solid "plastic" of the "chips" bags), aluminized, with a metallic-looking and highly reflective surface.
PAGEOS was placed in a polar orbit at a height of about 4000 km, which had gradually diminished over its 9 years of use, finally partially disintegrating in July 1975, with a second break-up in January 1976, which resulted in the release of a large number of fragments, most of which re-entered the atmosphere, slowly, over the next decade.
Just a look at the PAGEOS photo I show above is enough to realize that the "few astronomers" who argued according to L'Alsace that "the extreme brilliance of the object currently observed would tend to invalidate" that it would be PAGEOS debris because the things gave "the impression of a mirror reflecting the sun" were wrong. The envelope is obviously precisely like a mirror reflecting the sun. When they argued "that a satellite having exploded most of the debris would have fallen back to earth", they simply did not understand that it was not a satellite but a satellite-balloon.
Finally, on November 5, 1990, there was a "UFO" seen from the South-West to the North-East of France by a multitude of people; which was in fact debris from a Russian rocket. Among those who observed and correctly identified what was happening were "Daniel Karcher, amateur astronomer from Wittenheim"; it may be the same Mr. Karcher mentioned by the newspaper in this case.
For the record, the predecessors of PAGEOS were Echo 1 (1960) and Echo 2 (1964), the astronomer and ufologist J. Allen Hynek having participated in the Echo 2 program.
Evaluation:
Totally insufficient information, possible PAGEOS.
Sources references:
* = Source is available to me.
? = Source I am told about but could not get so far. Help needed.
[ldl1] * In comments by Fernand Lagarde in "Phénomène à Kaysersberg (Ht-Rhin)", investigation report by Jacques Journot, in the ufology magazine Lumières Dans La Nuit (LDLN), France, #221-222, page 32, November / December 1982.
File history:
Authoring:
| | |
| --- | --- |
| Main author: | Patrick Gross |
| Contributors: | None |
| Reviewers: | None |
| Editor: | Patrick Gross |
Changes history:
| Version: | Create/changed by: | Date: | Description: |
| --- | --- | --- | --- |
| 0.1 | Patrick Gross | February 27, 2023 | Creation, [ldl1]. |
| 1.0 | Patrick Gross | February 27, 2023 | First published. |